By: Paul Beel, J. Stockard Pro Tyer Team Leader; Interview with John Satkowski, Toledo, OH, fly tying demonstrator and instructor, you can find him @ River Raisin Fly Company on Facebook
This post is the first in a series of interviews with our J. Stockard Pro Tyers. We hope the series gives you some ideas on various materials, tools, flies or styles of tying you may want to try yourself. We also want to focus on our Pros thoughts on tying for a specific species of fish.
We appreciate you reading our blog and hope you might submit a blog yourself. You can use the form link to the right or send your blog post straight to [email protected]. Thank you!
1. What trends in tying have affected you in the past or at this time?
When I first started tying I was drawn to the articulated craze with guys like Kelly Galloup and Mike Schmidt pioneering two hook articulated flies. As I got more into it I became familiar with Greg Senyo's Fusion tying and Blane Chocklett's creativity in making new patterns. I also am inspired by Bob Clouser, Lefty Kreh, Carrie Stevens, Bob Popovic, and Michigan guys like Jerry Regan and Dennis Potter. Recently, the use of shanks to create more movement in my flies has taken my patterns to the next level.
2. Are there any newer tools or materials out right now that you really enjoy tying with?
I recently found Anadromous Fly Company's tools and they are really great quality and have a variety of scissors, hackle pliers, and tools to suit any need. I always have my Loon Dubbing Tweezers as well for picking up complex brush materials and putting them in a dubbing loop.
3. What are some of your favorite materials and why are they your favorite?
I use mallard flanks quite a bit, they create a lot of action on flies and are cheap to get in bulk. I also like Polar Chenille and Hackle Flash by Cascade Crest for wrapping bodies with bulk but not weight. In terms of dubbing brushes, Polar Fibre, Sculp Flash, and EP Tarantula Brushes are among my favorites.
4. What is your favorite fly tying vise? Tell us about it. Do you have more than one favorite?
I am a firm believer that the vise does not make the tyer, you should be able to tie an awesome fly with plyers mounted in a bench vise. With that being said, I like the Wolff Atlas and the Apex. They are built really strong and American made. They handle all kinds of hooks including some of the hooks I use that are not fly tying specific.
5. Is there a specific fishing trip that really stands out in your mind? Do you have any upcoming trips planned?
I have a couple that really stick out in my mind. My first trip out to Montana really opened my eyes to what fly fishing can be. It really cemented the change of my baitcaster to a fly rod for chasing smallmouth. The first time fishing the Manistee and the Au Sable also bring back fond memories. I have my annual trek up to northern Michigan to chase trout planned next month so I am looking forward to that.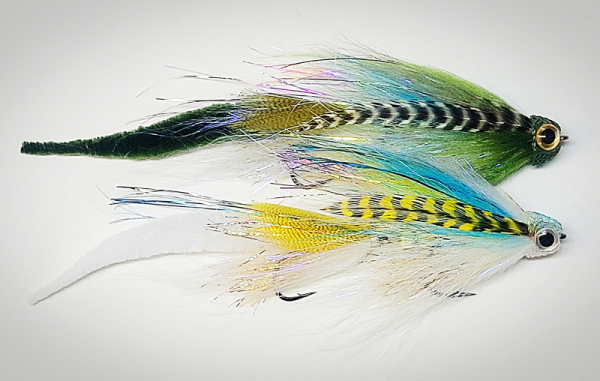 6. What are some of your favorite flies to tie?
Small, delicate dry flies do not really show up in my vise much. Articulated streamer flies and large predator patterns are what I specialize in, so big flies with multiple shanks and hooks are some of my favorites. I also like tying crayfish flies, they are such a complex creature to try to imitate, so I like trying to develop new ways of imitating them.
7. What are some of your favorite fish species and why?
I absolutely love smallmouth bass and pike. Smallmouth are such voracious fish and they have a spirit about them when they fight. They run and jump and are fun to catch on a variety of fly patterns. Pike are the apex predators of many systems and they tend to know it.
Pike takes are often breathtakingly violent and even a fish rocketing out of the weeds and missing your fly gets your heart racing.
8. What type of fly rod do you like to use? Can you tell us a little about a couple of your setups?
Rod, reel, line, leader? I love TFO rods, especially the Lefty Signature Series and the Axiom series. My typical set up is a 7 or 8 weight depending on the size of streamers I am throwing. I use 9' Rio Bass Leaders in 8lb. or 12lb. with a 0x or 1x tippet. My go to Pike/Predator Rod is a 9 weight TFO with a 7.5' toothy critter leader with a snap at the end for quick fly changes. All my reels are Lamson Gurus. They are spooled with floating fly line due to the shallow depths of my home waters with Rio Mainstream Bass Fly line.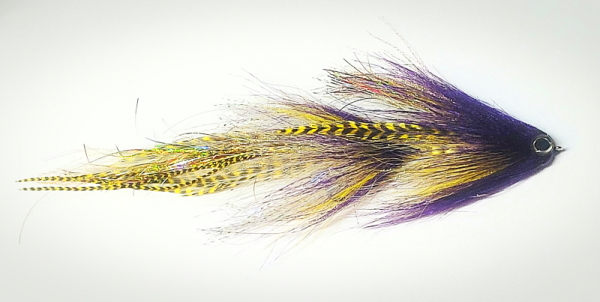 9. Are there any classic flies that you take inspiration from?
I really like anything Carrie Stevens tied, they are such beautiful flies and there is something about their construction that really speaks to me. They are all quite remarkable considering they were tied in hand. I also really like Jay Zimmerman's patterns, they are creative and give fish something different to look at.
10. If you tied some flies to fill a fly box to target your favorite river, what specific flies would be in it?
I always have a popper or two, or at least something that goes up top. A couple attractor streamers that are big, loud, and push water in case of colored water. I have a variety of baitfish patterns that cover different depths in the water column. I also have a couple larger flies for pike in case the toothy critters decide to show up and push the resident bass to lockjaw in their presence. We do not have much insect activity on my home river but a couple Ephoron and Hex dries would be in there just in case, especially around later
summer in August.