Guest Blogger: Mike Cline, Bozeman, Montana
We have so many great trout destinations within an easy drive from Bozeman, that it is difficult to call any of them "Home Water".  But if I was to say which river is my favorite, it would have to be the East Gallatin River.  It meanders some 40 miles from its headwater streams through the Gallatin Valley to its confluence with the Gallatin River near Manhattan, Montana (home of a famous Montana Steakhouse—Sir Scott's Oasis).  More importantly, it shares little character, if any with the slightly larger and more well-known Gallatin.  While the Gallatin for most of its length is a rough and tumble canyon river with lots of challenging whitewater, the East is a low gradient, meandering valley stream fed by numerous spring creeks.  Access to the Gallatin is easy as the highways 85 and 191 parallel the river south to Yellowstone and there's lots of public land.  The East on the other hand flows almost entirely through private ranch and farm land and there's very limited public access via a few county roads.  Suitable for floating only with kayaks or canoes in its lower reaches, the wading angler may have many miles of river below the high water mark to negotiate between access points.  It averages about 60CFS during normal years, but has a small, meandering character that make fishing from a watercraft difficult.
I first fished the East in 2005 during a trip to Montana when I gained access to five miles of the river via a pay fishery that allowed only six rods per day on two spring creeks and the river.  As I remember the day, it was a cold, rainy late September day.  My feeble rain jacket and waders leaked.  My wife, who accompanied me, spent the day taking photos while miserable on the bank. The day was memorable as I broke two rods.  A 5 weight broke as I got hung up on a bush and proceeded to fall on a very slippery mud bank trying to retrieve the fly.  My 7 weight broke later in the day as I set the hook on a very fat, 20" rainbow.  This break was the obvious result of dings in the rod from heavily weighted flies.  After an afternoon break and a quick trip to a fly shop to replace the 7 weight (new Sage XP on sale, very good deal, still fish with it on a regular basis), I was back on the river.  My introduction to the East, apart from the broken rods and weather, was a complete success.  Dozens of fish came to hand with some of the largest trout I'd ever caught in Montana.  I would return many times before I moved to Montana in 2008.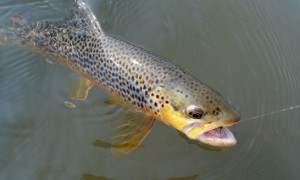 Fishing on the East benefits from several factors.  One is limited access.  The river just doesn't get a lot of pressure.  More importantly, it is an insect rich stream that unleashes prolific caddis and mayfly hatches on a daily basis throughout the season.  When the Tricos are out in mid-summer or the BWOs in the fall, the river reveals the massive numbers of fish it holds. The numerous spring creeks that feed the river provide excellent nurseries for young fish and mineral rich waters to support aquatic insects.  Although the river holds brown and rainbow trout of all sizes, it will routinely give up fish over 18" every visit.  My largest ever brown at 27" came from the East on a black woolly bugger. The East however suffers when one considers
esthetics.  Although the water is relatively clear, the low gradient and meandering nature makes it appear more as a ditch in places than a river.  The bottom is mostly small gravel, silt, mud, sand and weeds.  Rocks larger than softballs are rare, especially in its lower reaches. Outside bends and long pools can be 5-8 feet deep.  At times, mud lined banks can be difficult to wade trying to suck your boots off but for the most part, the wading angler can make easy transitions in this typical riffle-pool water. In most of its lower sections, there are no trees to speak of, only willows, grass and scrub lining the banks.  Seriously windy days can make for challenging fishing.  As many of the ranches along the river are cattle ranches, it's not unusual to find a few cows wading along with you.  However, if you don't mind its esthetic downside, there's no better river to spend a day on once you can find access.
My day trips to the East Gallatin normally begin at dawn when I drop the kayak into the river from one of the few county roads.  Sunrises on the East Gallatin can be spectacular and seem almost as explosions behind the Bridger Mountains which loom over the river.  My favorite approach to the river is downstream stripping of streamers as this will generate the largest fish.  Occasionally, I'll bring along a light glass rod and throw some Elk Hair Caddis or Sparkle Duns for rising fish.  This is most productive for me in the Spring before runoff.  Once runoff subsides in late June, it's pretty much streamer time for the rest of the season as I find it far more efficient than tossing tiny dry flies.  Browns predominate in early Spring and Fall, while rainbows make up most of the catch during July-September.  Browns gain impressive sizes in the East Gallatin and make for exciting fishing on light tackle. October can provide fast action fishing on cool, cloudy days when BWOs start around 9AM and carry through the day.  October is also spawning time for browns and their redds can be seem in almost every tail out or deep riffle.  Regardless of the time of year, trout in the East can be counted on to reveal their presence with regular rises every morning and throughout the day.
This is an easy and welcome day trip for me as my favorite spots on the river are within 20 miles of the house. And its rare to encounter other anglers.  I'll make a dozen or more trips to the East every season always hoping for that monster brown, but satisfied with the many rainbows and browns I know I'll catch.