J. Stockard Pro Tyer: Justin Bowman
I anticipated the release of the Firehole 718 for quite a while. I noticed over a several month period that Joe, the founder of  Firehole Outdoors, left me a couple of comments on social media posts that suggested something was in the works. However, there were never any real details released and his comments were somewhat cryptic. I recall one that was similar to "just you wait" on a post of a stimulator on a TMC 200R. Well, I waited. Turns out that I waited longer than Joe had anticipated. He recently told me that hook mold modifications added 5 months to the release date, but it is what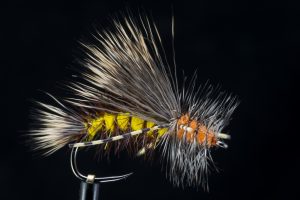 was needed to get the hook that he wanted.
What Joe designed is a barbless, extended length, natural bend hook. This is a barbless solution to the Daiichi 1260 or a TMC 200R. I thought stimulators, hoppers, stoneflies, and terrestrials when I first saw it, but long nymphs shouldn't be overlooked. After all, the 200R is a personal favorite midge hook of mine. I've long loved the bend in the shank of the 200R for nymphs because of the great profile/realistic shape it creates.
The Firehole 718 has a straight eye, 2x+ gape, and is made from a medium-heavy wire. It is initially available in sizes #4 to #18. The hook is made from a high strength carbon steel, which is properly hardened and tempered. Further, the hook is chemically sharpened and finished with a black nickel coating.
I received samples of these hooks several weeks ago and have tied several dozen flies on the #4's through #18's. I should point out the longer hook point and large gape, as I believe these make the shank appear shorter. If you compare the 718 to the 200R in their respective sizes, you'll find these hooks are essentially the same lengths (see photo). As with all other Firehole products, I've found these hooks make for a fantastic looking fly. But more important than looks, these hooks are well constructed, strong, and SHARP.
The Firehole 718 is now in stock at J. Stockard. Try them. I hope you like them as much as I do!