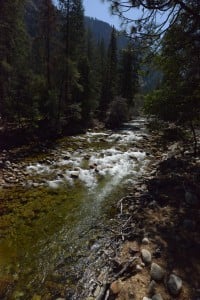 Guest Blogger: Michael Vorhis, Fly Fisher & Author, FreeFlight Publishing
Winding carefree through perhaps the most soothingly stunning canyon on the planet, meandering in serpentine calm between gentle green meadows guarded by 200-foot giant conifers, the Merced River makes its charmed way down the legendary Yosemite Valley. Except for now and then, it's in no hurry to leave this place. Its pools and riffles, its grassy wildflower-lined banks, and its friends the stately firs and sequoias and powerful Ponderosa Pines all seem dwarfed to the size of moss by the immense stone walls that stand, an unbroken gauntlet of stoic granite sentries, on both sides all the way down.
Of all the rivers in all the lands, this one won the lottery, scoring the most breathtaking home imaginable. Or you might say it forged its own fortunes, although today's gentle Merced (Valley stretch) surely bears little resemblance to the glacier-powered beast that had carved the canyon long ago. That relentless ancestral torrent can only be thought of as having had a wondrous vision. But whether one dwells on the carving of the place or the perfection this stream now enjoys, a fly fisherman thirsts to enter this river's magical flow and become part of it. And that sentiment prevails regardless of the expected size of the mountain stream fish it may hold.
It was the same, I recall, with hang gliding–through their flying careers pilots invariably became addicted to big air and impressive cross-country miles, just like so many trout fishermen seek out big rivers and so-called trophy fish. But even many big-flight chasers in that other crowd would never hesitate to burn one full day of a weekend on their way to the strong lift and mega-altitude exploits of the high deserts, for the sole reason of getting a short 15-minute glide off Yosemite's Glacier Point, and then landing there…grinning speechlessly…in heaven. Like them, a fly fisherman who holds a Yosemite trout in the hand is equally speechless, and knows that to rob this fish of life would be to rob it of paradise…and that every trout, length be damned, is a trophy. That's the power of The Valley.
Yes, a fly fisherman yearns to become part of it…but yearn was all I did on a recent glorious early April weekend. Why? Because fishing season doesn't begin until the third week of April! Talk about your disappointment…so I scouted. Consider this an overview scouting report. (I'm also considering it an excuse to get another 'hall pass' to go back during the summer and toss some actual flies. "The readership demands it, honey…I really have no choice." Practicing that line…how does it sound?)
In all the years I've known Yosemite–I've hiked all the classic falls trails, climbed vertical faces, been warned I was too close by hidden growling bears, chased raccoons (and my next day's grub) up trees in the middle of the night, stood on the stone slab "diving board" that hangs out over the void atop Half Dome, was married in the Valley (it's the greatest natural cathedral you'll ever find), have probably leapt off Glacier Point with glider and video camera half a hundred times or more, have kissed the ground almost as many times (my landings were always a tad south of graceful)–I don't believe I've ever seen more than a couple of fly fishermen on the Merced. Yes, I was clearly preoccupied for many years, but another reason is that fishermen have a perception that the Valley is filled with tourist crowds, although in fact it's quite easy to escape visitors. Yet another reason is that the Valley part of the river is assumed to hold smaller fish than the gorge below, which is outside the park boundaries but where reputedly lurk big browns and where the barbless and release rules don't apply. But despite the opinions many fishermen hold about the valley stretches, in truth while day-trip strollers and cyclists click their snapshots and swashbucklingly clumsy pilots taste the dirt and world-class climbers cling like microscopic gnats to sheer granite thousands of feet above, there are rumored to be a number of very nice fish in the 17-inches-and-bigger range brought to net right there in the valley every year. So they're in there, hiding beneath undercut clumps of mountain meadow, determined to live out their long lives in this matchless place.
All told, there are more than 400 miles of streams brimming with wild trout in the park, many of which seldom (or never) encounter man. You can find them from below 3000 to above 12,000 feet. You may need good boots and a love of solitude. Up high (7000 feet and above) the fish are less selective since the clean bare rock doesn't lend itself to nearly as many species of insect; so they take what they can get, and many terrestrial patterns work great. At 4000 feet, Yosemite Valley itself has a far richer ecosystem and more stable water conditions; life is thus easier for those trout, and they can get bigger…and be more particular.
Note from J. Stockard: Fishing pressure, types of water, fish species and trout history are discussed in Part 2 of this article.