Guest Blogger: Mike Cline, Bozeman, Montana
Many fly anglers will refer to their favorite fly shop as "their local fly shop". Probably in most places across the U.S., even those with great fly fishing don't have more than one or two full service fly shops servicing the region. For example, I was once visiting Jacksonville, Florida to see relatives and wanted to do some Sea Trout and Redfish fly fishing in estuaries off the St. John's River. In a metro area of over 1.4 million people, I was able to locate one (1) fly shop. Even in Pittsburgh where I work a lot, there's only one (1) fly shop, two if you count the Orvis store. Of course a lot of large sporting goods and outdoor stores sell fly tying and fly fishing gear, but they aren't really the traditional fly shop.
Such is not the case here in SW Montana. When someone refers to their "local" fly shop, it's hard to know which fly shop they might be talking about. Walk around Bozeman, Livingston, West Yellowstone, Gardner, Twin Bridges, Melrose, Ennis, Big Sky, Emigrant or Craig, Montana and you'll be hard pressed not to see someone wearing a hat or shirt with a Montana fly shop logo on it. And they won't all be the same. Going back in time, Dan Bailey's Fly Shop (1938) in Livingston is probably the oldest and most prestigious. Bailey's is famous for its "Wall of Fame" silhouettes of 4lbs plus trout from the Yellowstone River.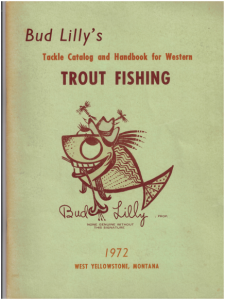 Probably next in line comes Bud Lilly's Trout Shop in West Yellowstone. Bud Lilly, who still lives in Three Forks, Montana at the age of 90 bought the shop in 1950. It had early roots as a tackle store started by California fly tier Don Martinez in 1932 (the guy who popularized the Woolly Worm). Lilly sold the shop in 1982 but it is still in business today as "Bud Lilly's Trout Shop". Of course Lilly's is not the only fly shop in "West". Pat Barnes opened a shop in the 1950s which became the fly shop we know as Bob Jacklin's today. These are the fly shops that in the fly fishing boom of the 1960s and 1970s catered to the rich and famous/not so famous, everyday fly anglers and of course many fly fishing writers like Ray Bergman, Lefty Kreh and Charles Brooks that were
visiting Yellowstone and SW Montana to fish the storied Madison, Firehole and Yellowstone rivers. Although there was a fly shop I visited regularly when I was stationed in Great Falls, Montana in the early 1970s, I can't remember its name. What I do remember is my first visit into Bud Lilly's Trout Shop and a short conversation I had with Bud. My wife and I had just spent the afternoon on the Madison in the park with marginal luck (I was not very accomplished in 1972). Of course Bud asked how the fishing was and I told him how the day had gone. He chided, "Son, that's why they don't call it catching" dismissed me and went on with his business. A few years ago I had the opportunity to talk with Bud at a luncheon and mentioned the 1972 conversation. He said something to the effect that he was a bit sarcastic with his customers back then. He assured me that I wasn't the only duffer to receive that type of remark. Today, West Yellowstone, a town with a population of 1300 boasts at least five different fly shops—Jacklin's, Lilly's, Arrick's, Madison River Outfitters, and Blue Ribbon Flies (owned by Yellowstone experts Craig Matthews and John Juracek)—all within about 1/3 of a mile on Canyon Street and Yellowstone Avenue.
Dan Bailey's in Livingston, Montana is not alone either. Today in Livingston, a small town of 7100, George Anderson's Yellowstone Angler and the Sweetwater fly shop operate just south of town. Further down highway 89 in Emigrant, Anglers West operates another full service fly shop. Across the river in Pray, Montana is crazy Doc Knoll's fly shop. Once you reach Gardiner, Montana, Parks' Fly Shop, started by Merton Parks in 1953 and now operated by his son Richard is one of the oldest businesses in Gardiner still owned by the founding family. Going north from West Yellowstone toward Ennis, there are two fly shops of note. At the downstream end of the famous 1959 earthquake slide in the Madison Canyon is Kelly Galloup's Slide Inn and Fly Shop. Of course Kelly is famous for his innovative streamer patterns. A lesser known but no less impressive fly shop is part of the Campfire Lodge Resort nestled at the mouth of Cabin Creek on the Madison between Hebgen and Earthquake lakes. There you will find a most impressive selection of Whiting hackle.
Once you reach Ennis, Montana you'll find three more full service fly shops, in a town of less than 1000 people. The Tackle Shop, opened in 1937 claims to be the oldest fly shop in Montana but that's probably an exaggeration because in 1937 it was an "all tackle" type of business. Once owned by rod maker Tom Morgan of R.L. Winston fame, the shop is still located on Ennis's main street in its original building. Also on main street are the Madison River Fishing Company (1984) and Montana Trout Stalker's fly shop. If we had left West Yellowstone and drove north through the Gallatin River canyon, we'd have passed another three full service fly shops in Big Sky, Montana. Instead we'll leave Ennis and go West to Twin Bridges, Montana where we would find the Four Rivers Fishing Company and Stonefly Inn and Outfitters on main street. Four Rivers was started in 1959 by late author Scott Waldie from Sheridan, Montana (Traver's Corners trilogy-stories about fly fishing and life in small town Montana). The Stonefly operates a full service fly shop and the Stonefly Inn, a seasonal set of lodgings adapted from a 1940s roadside motel. Just to make your visit more expensive, Twin Bridges also host the R.L. Winston and Sweetgrass Rods factories. There's a story here: (Jerry Kustich- Wisp in the Wind: In Search of Bull Trout, Bamboo, and Beyond). Just to the West over McCartney Mountain on the bumpy High Road or the Burma Road is Melrose, Montana in the heart of the Big Hole River. A town that might have a population of 150, but never the less, there are two seasonal fly shops in town—Sunrise fly shop and Headwaters fly shop. Fly fishing must be good there abouts.
Before returning to Bozeman, the trip to Craig, Montana will take us through Butte, Three Forks and Helena. In the equally tiny town of Craig on the Missouri River just downstream from Holter Dam you will find three fly shops side by side—Headhunters, The Trout Shop and Crosscurrents fly shops. Butte and Helena have fly shops but I am unfamiliar with them. Bozeman has two big sporting goods stores that sell extensive fly tying and fly fishing gear, but they aren't fly shops. On the west end of town at four corners you'll find Fin and Feathers (an Orvis dealer and arguably the #1 or #2 fly tying selection in the city) and The River's Edge West next to the new Simms factory (An interesting story in fly shop strategy here). In the heart of town, River's Edge fly shop, The Bozeman Angler and my "local" fly shop, Montana Troutfitters round out the fly shops in Bozeman. Troutfitters is on par with Fin & Feathers for the best selection (and advice) on fly tying materials. Troutfitters was started in 1975 by guide, outfitter and trout advocate Dave Kumlien. Dave no longer owns the shop but guides for them on a regular basis. I try to fish with Dave at least once every year to find out what's going on in his world.
If you read enough fly fishing blogs and forums, you are bound to come across posts that implore us to "Support Your Local Fly Shop". In SW Montana that could get expensive. (I only have three shops on my favorites bar, primarily for river reports—Parks, Blue Ribbon and Troutfitters). No matter which direction you travel out of Bozeman there will be fly shops on the way ready to provide advice, arrange shuttles, sell flies or other gear, provide instruction, offer guided trips or just talk fly fishing, many that I've not even mentioned here. From Billings to Missoula, Glacier to Yellowstone and on all good rivers in between, fly shops abound. When you find yourself in SW Montana, come in and support our many "local" fly shops. Buy some logo apparel in each one and you'll have a different hat or shirt for every day of the month. However, if you want to spend time fishing instead of window shopping in every fly shop you pass, get your stuff at J. Stockard before you travel.