Guest Blogger: Eunan Hedron, Classic Fly Tyer, Eunan Blogs @ Addicted to Vise
Customizing your flies – this is where dyeing feathers becomes useful!
For me, fly swaps have been a great way to get new patterns to fish, and also to try my hand at tying patterns I normally wouldn't tie, while adding a little personal twist to certain patterns by tweaking the materials. I do try to retain the overall essence of the fly that it is still recognizable as a certain pattern.
I participate on two or three fly fishing forums, which affords me the opportunity to tie a wide variety of different patterns for fly swaps when I'm inclined to step away from the classic flies that I normally tie year round. Winter months are good for fly swaps, and this year is no exception. Already I've signed up to participate in 3, one for classic salmon fly patterns, one for nymphs and one for steelhead flies, the subject of this post.
The Green Butt Skunk is a steelhead fly most, if not all, steelhead fly fishermen are familiar with. Developed by Dan Callahan for Umpqua River steelhead, it has proven itself to be a remarkable fly for many different fishing conditions.
While I've changed a lot of materials, I've retained the entire color palate of the original pattern, such that, it could safely be called a Green Butt Skunk variant. One minor addition to the throat is the pheasant rump dyed chartreuse, which I used to link the rear of the fly with the front.
Green Butt Skunk Variant (pictured above) Materials list: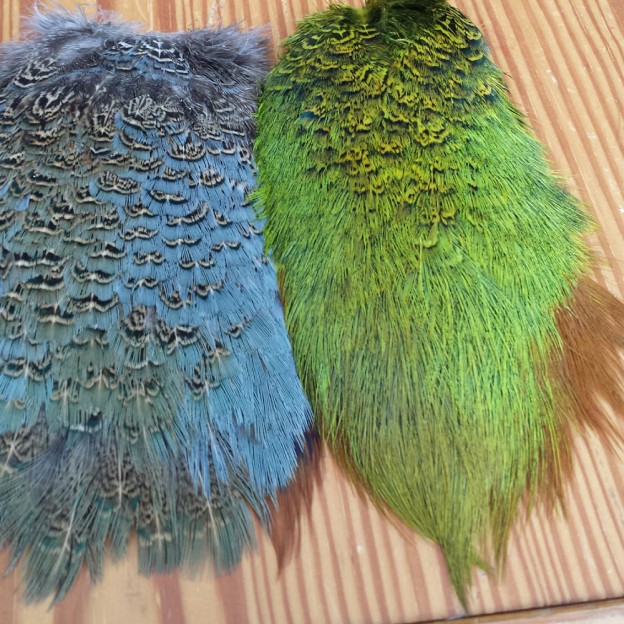 I hope you like the variant. Don't be afraid to pick up some dyes and materials from the J Stockard catalog to tie your own. As you can see, the pheasant rump really takes the color well, when compared to an undyed rump.