Guest Blogger: Mike Cline, Bozeman, Montana
For anyone that has listened to Public Radio for any period of time, the phrase "Be Well and Do Good Works" probably rings familiar. It was something that humorist Garrison Keillor used to close many of his radio programs. When I thought about writing a story about this year's  Madison-Gallatin Trout Unlimited banquet, it was a phrase that immediately popped into my head. There's little doubt in my mind it describes Trout Unlimited to a tee. "Be Well" – maintaining the health and welfare of cold-water fisheries. "Do Good Works" easily describes any number of TU projects across the U.S.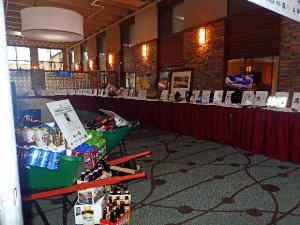 For the last several years I've been an active supporter of the Madison-Gallatin Chapter of Trout Unlimited in Bozeman, Montana. The chapter holds an annual fund raiser banquet every February as its only serious fund-raising effort of the year. After attending a few banquets shortly after I moved to Bozeman in 2008, I started donating J. Stockard gift certificates funded with my reward points and swag provided by J. Stockard for the silent auctions and bucket raffles. Three years ago, with the generous support of J. Stockard, I started loading up a variety of fly boxes with dozens of my favorite flies for the silent auction. I found it very rewarding to see boxes of flies that I had tied generate $100s for the chapter. Because I would be working a bit less in 2018, I joined the chapter's banquet committee to help even more and get some behind the scenes insight to all the tasks necessary pull off a successful fund-raising banquet.
The insights were many. It takes a lot of volunteer time to contact potential donors, get commitments large and small for all sorts of items to become part of the various auctions and events of the evening. Local businesses in the Gallatin Valley of all sorts—Fly shops, outfitters,
gift shops, hotels, lodges, restaurants, jewelry stores, ski areas, etc. were eager to support their local TU chapter. But it takes time and coordination to ensure that support comes together seamlessly on banquet night. The chapter uses a combination of silent and live auctions as well as bucket and high-roller raffles during the evening to generate funds. There is also always a special event at the end of the evening to generate pledges for a special TU cause. Many of the live auction items are multi-day fly fishing trips to all sorts of destinations. These destination trips are usually the result of trip swaps donated by local outfitters to support other TU chapters. Putting together trip swaps requires getting the right combination of donated outfitter days as well as lodging and meal commitments. The old timers on the banquet committee spend a lot of time on the phone getting these swaps finalized.
The day before the event, all the donations which have flowed in through the mail, in-person to volunteers, etc. have been staged at a central location for organization and must be transported to the event venue. This year it took five pickup trucks to move the stuff to the hotel. On the morning of the event, at least a dozen volunteers set up the venue with the silent auction, raffles and live auction donations. Three years ago, the MGTU banquet committee adopted an on-line auction and pledge bidding tool called Give Smart. This not only allowed local bidding, but also bidding by anyone 24/7 days before the actual event. With a nifty little smart phone app, you could follow all the items you were interested in right up to the close and pay for your wins immediately. And, there was always a running tally of bids and donations in the event hall. It sure cut down on a lot of manual paperwork as well as increased participation. More importantly, it raised event revenues by about 30%.
The banquet itself is a popular event and sells out (280 attendees) within a week of the ticket release. It is not only a great social gathering but really does generate a lot of tangible support for the chapter. This year's banquet generated at least $90,000 for the chapter's good works.
Among those good works was this year's special cause—Trout Unlimited Veteran's Services Partnership. I had the special privilege to work closely with Dave Kumlien, TU's national coordinator for the TU VSP, to put together a video for the night's presentation. The eight-minute video tells the story far better than I can with words: MGTU Salute to Trout Unlimited Veterans Services Partnership. As a veteran myself, it was an emotional, but rewarding task. Even more so on the evening as the chapter generated approximately $6800 in pledges dedicated to the TU VSP within minutes of showing the video.
Banquets such as these and other fund-raising events are essential to the health and prosperity of local Trout Unlimited chapters. To be successful, they take a lot of volunteer effort and the support of donations from members of the community they are involved in. I would encourage all the fly tiers and readers of the J. Stockard blog to support their local TU chapter in any way you can. Donate a box of your favorite flies. Use your reward points to donate J. Stockard gift certificates. Persuade your friends to donate. Volunteer your time if you can. I would also like to thank Kate and James Vick and the J. Stockard crew for their support of the MGTU chapter and the many other TU chapters they get involved with. As Garrison Keillor so profoundly says: "Be Well and Do Good Works."