Guest Blogger: Michael Vorhis, author of ARCHANGEL suspense thriller, OPEN DISTANCE adventure thriller & more to come
For anyone planning a trip to Yosemite Valley in springtime, as I wrote sometime back the place is truly heaven on earth. There's no flow regulation (no dams) in or above Yosemite streams, for one thing—it's all natural runoff and snow melt. It's a joy to need to be connected to Nature's seasons in that way, but at the same time it takes some savvy, and a little prior data, to fish there. There are numerous fly fishing water options, including the Merced running through the valley, and Tenaya Creek, and Yosemite Creek, and Crane Creek down in the Foresta basin…and none of that even considers the high country (which won't be accessible in the spring anyway).
Fishing season begins the fourth Saturday of April each year; do your best to delay those family Spring Break trips until you can legally cast a line. That's what I did this year; I got out at 5am on the second day of the season and had the Merced to myself…for all the good it did me.
I found it rough going. I'd been monitoring snow melt rates and stream flows, but really had little means of reconciling CFM numbers to any idea whether I could safely get in the water. A person really needs a visual. So this article is a mostly-photographic data point that might help you identify what a given flow rate looks like. Hey, a one-weekend data point is better than none at all.
When I was there, the Merced was running in the 3200-4000 CFS range. Note that the snow pack is huge this year (2017), so try to think in flow rates rather than dates on a calendar page, because these conditions in other years will happen, but perhaps not in late April. For the flow rates I saw, I have photos and a bit of observational lore for the Valley stretch of the Merced, for Tenaya Creek, and for Yosemite Creek. A guide I spoke with was bringing a class of beginners down along Crane Creek, but I think it's because that stream is so narrow it's all bank fishing.
In the Valley, all streams feed into the Merced, so a Merced gauge will also give hints as to what the creeks are likely to resemble. The below useful link gives both CFS and height at the Pohono Bridge:
https://waterdata.usgs.gov/usa/nwis/uv?site_no=11266500
When I was there most recently, the gauge reading showed this:
Notice that the flow rate goes DOWN in the afternoon. This is counter-intuitive, since in most snow-fed streams the late afternoon is when the day's peak melt finally arrives in the stream. In Yosemite it seems to take so long for melt on the peaks to hit the streams that it arrives next morning. That was a source of disappointment for me since I'd scouted my chosen wade-in point the afternoon before, only to find it much too deep to cross at 5am. The difference was easily 6-8 inches. As a result I was stuck with flicking my line out between trees and letting it drift right past my boots. Not a very classic experience…but ya live and learn.
And late April isn't the worst of it. A week later the Merced flow had doubled to 7000 in the mornings (dropping to 6400 in afternoons). Depending on the Hig Sierra snowpack, the flow can rise and remain high into June. And the high country streams and lakes don't open until Memorial Day or later.
The simplified take-away is that Yosemite National Park may be best thought of as a mid-summer-and-later set of fisheries. Of course savvy locals and guides always have their secret stretches, and there's downstream water outside the park that's generally fishable in spring, but in the park itself the bulk of water easily accessible as part of a family trip can be a challenge, especially if wading is the goal.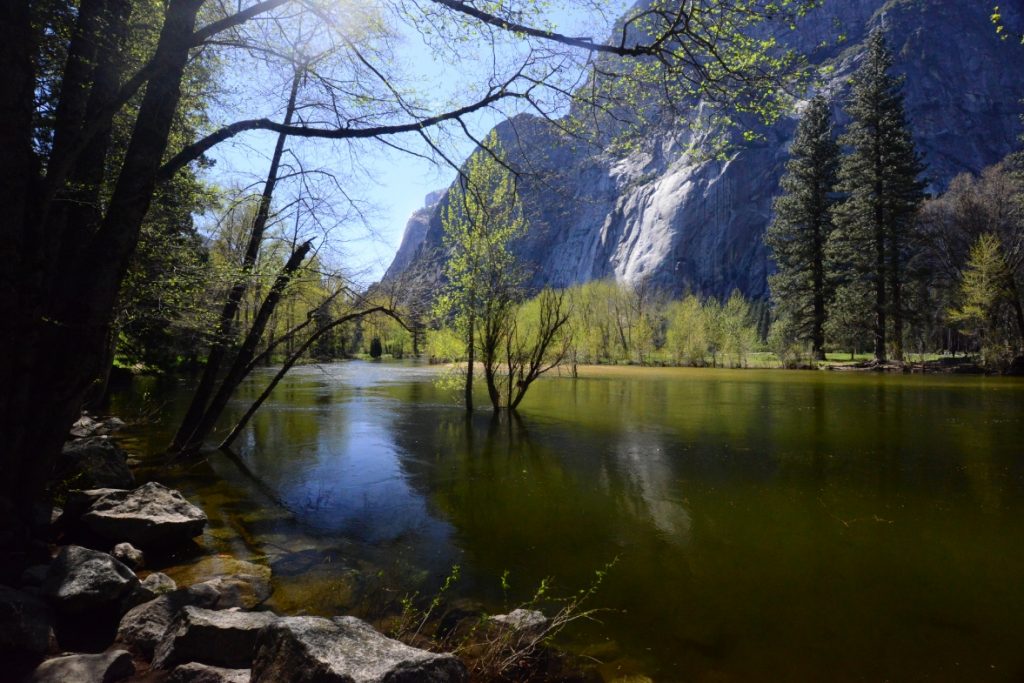 NOTE FROM J STOCKARD: Over the next week or so, we'll publish parts II, III and IV of this post from Mike Vorhis.