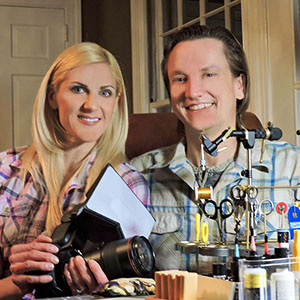 We would like to officially welcome John and Katie Demuth of Kingsport, TN, to our team of J. Stockard Pro Tyers!
John has fished all his life and , when he met Katie, and found they both had an interest in fly fishing, they jumped in head first and never looked back. They feed off each other's passion so their skills are always evolving. Katie's focus on photographing the flies along with John's passion for fly tying has created a great team. They tie / photograph daily and are always looking for ways to improve their art.
John loves tying flies and fly fishing the rivers of East Tennessee. He has always enjoyed the outdoors and earned the honor of Eagle Scout growing up. He later served in the United States Marine Corps in Operation Iraqi Freedom. Katie ties flies and fly fishing and is an accomplished photographer. She spent her summers living on the river in Pitman Center, TN and she later served in the United States Army. John and Katie's favorite flies to tie are Caddis, Stimulator, parachutes, soft-hackle nymphs and quill bodied flies.
We are very happy to have John and Katie represent J.Stockard Fly Fishing as a Pro Tyer and we look forward to following them on their future fly fishing and fly tying endeavors.
Below you can see a sample of John's tying and Katie's photography and if you would like to see more of their work, you can follow them on Instagram at https://www.instagram.com/demuth_flyfishing/ .