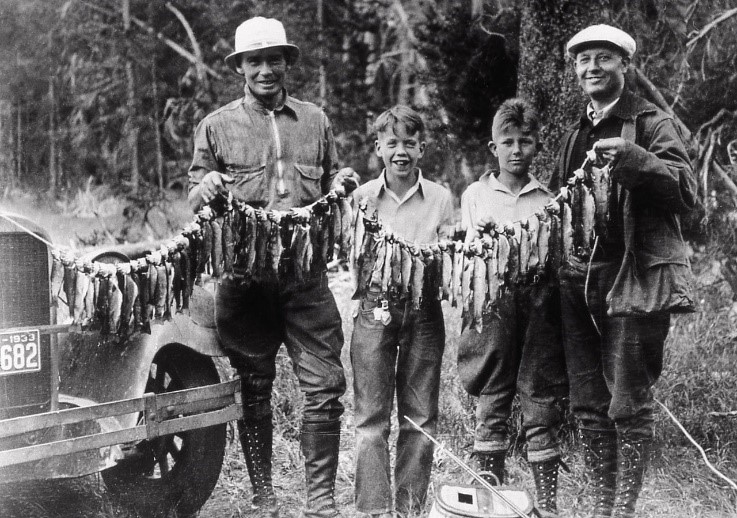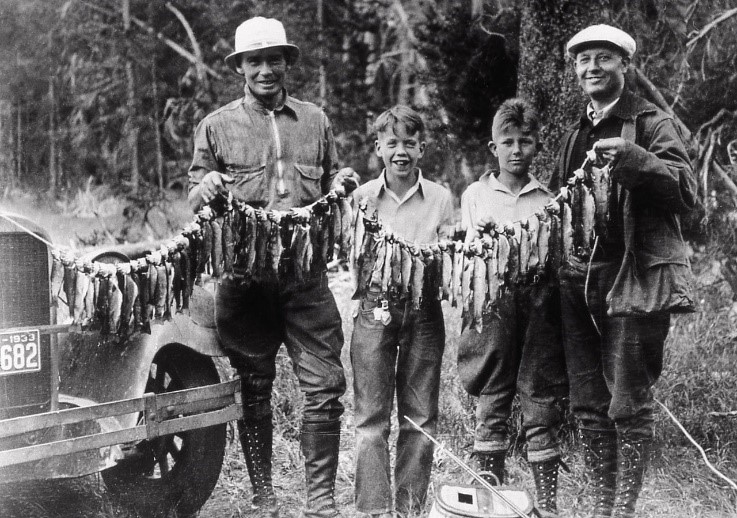 The following post does not necessarily reflect the views and opinions of the owners and staff of J. Stockard Fly Fishing.
Guest Blogger: Mike Cline, Bozeman, MT
Although I am much more prone to think and write about positive things, it is hard to imagine the idea that "Catch and Release" could be considered illegal or that excessive no kill limits might be allowed on any world class trout fishery. But such is the case as of 2014 in Yellowstone National Park.
These images of excessive catches of Yellowstone Cutthroat trout from Yellowstone Lake date back to the early 19th century. Through the 1950s, kill limits on trout in the park were so high that images such as the above were in the norm. In fact there are a great many accounts where park rangers and staff found garbage cans in campgrounds full of dead trout, caught and discarded by anglers. As overharvesting continued to decimate the cutthroats in the Yellowstone River and in the lake, regulations evolved slowly and steadily with an emphasis on catch and release for all species and limited kill limits on non-native species in some waters. Then in 1994, illegally introduced lake trout were discovered in Yellowstone Lake and the inevitable slippery slope to protect native species began at all costs. A mandatory kill regulation was placed on lake trout caught in Yellowstone Lake. To comply, if you caught a lake trout you were legally obligated to kill it. If you didn't want to keep the fish, it was to be killed and discarded in deep water. I know several sincere catch and release advocates who flatly refuse to follow this regulation.
In May 2011, the National Park Service approved its 20 year Native Trout Conservation Plan allowing the slippery slope to get steeper. In either the 2012 or 2013 edition of the Park's fishing regulations they cleverly changed the name of one of the two fisheries management areas in the park. The Native Trout Conservation Area remained but the previously named Wild Trout Management Area became the Nonnative Trout Tolerance Area. Fortunately, at least in the near term, the Park Service is willing to tolerate a world class fishery for brown and rainbow trout in the Firehole, Madison and lower Gibbon Rivers. How long that tolerance will last is unknown. What they are apparently unwilling to tolerate are healthy brown and rainbow trout fisheries in the Native Trout Conservation Area which encompasses at least 2/3rds of the park to include exceptional fisheries in the Yellowstone, Gardner, upper Gibbon and Gallatin Rivers. The 2014 regulations contained the following language in sections pertaining to the Native Trout Conservation Area:
"All rainbow and brook trout caught in the Lamar River drainage, including portions of Slough and Soda Butte creeks, must be killed—it is illegal to release them alive."
"In areas downstream of these locations, killing of nonnative fish is recommended, but not required."

When one realizes that downstream of the Lamar River is the Black Canyon of the Yellowstone and 15+ miles of premier brown and rainbow trout water, this becomes a rather onerous recommendation.

"No possession limit on nonnative fish."

This is now the new norm in the Native Trout Conservation Area and opens the door to a future with where images like those above would be a possibility albeit with browns and rainbows instead of cutthroats. One wonders if the Park Service would begin celebrating such wanton killing and waste.

"Dispose of fish and/or fish entrails within the waters where the fish was caught but not within 100 feet of boat ramps, docks, or backcountry campsites. Fish can also be disposed of in park trash cans."
In reality, there's little likelihood that angling in the park will revert to the excesses of the early 20th century but making it legal to take an unlimited amount of brown trout out of spawning streams in the park, should it happen, will invariably damage downstream fisheries outside the park. And there's absolutely no evidence presented in the Native Trout Conservation Plan that killing non-natives in streams and rivers that are tributaries to larger systems outside the park will do anything to improve conditions for natives.
Another aspect of the slippery slope is the Park Service's desire to poison out non-natives and re-introduce and introduce natives into various lakes and streams in the park. Some of this poisoning has already started in some small headwater streams to re-establish westslope cutthroat. The most onerous of their plans to destroy non-native fisheries is on the upper Gibbon River above Gibbon Falls. This is water that was barren of fish in 1890 when the US Fisheries Bureau introduced browns, rainbows, brook trout, smallmouth bass and grayling introduced into the watershed. The grayling, although native to Montana, were not of the fluvial (river strain) found downstream of the falls, but of the lacustrine (lake dwelling) form found elsewhere in Montana. The bass did not survive, but browns, rainbows and brook trout did creating one of the better small stream fisheries in the park. Today the Park Service is planning to poison 174 kilometers of streams and introduce fluvial grayling and westslope cutthroat, neither of which was ever endemic to the watershed with no guarantee that a productive fishery will ever be created in the place of the one that exists today.
I recently asked the Law Enforcement staff in Yellowstone whether or not they had issued any citations for failure to release rainbows in the Lamar Valley or Lake Trout in Yellowstone Lake. Anecdotally their answer was probably yes, but very few. Instead when they encounter such situations their emphasis is on education and rangers are given wide discretion as to whether or not to issue a citation. I know one angler who was personally warned by a ranger when he released a rainbow back into Slough Creek. "Do that again and I'll cite you." But the new regulations (which I assume were put into place to actually accomplish something) become very problematic for visiting anglers should they decide to kill and keep non-native trout in any numbers. An angler who keeps any trout from the upper Gibbon, but is camping in the Madison Junction campground runs the risk of violating the possession limit (zero) in the Nonnative Trout Tolerance Area. Anglers who catch and keep more than 4 or 5 brown and rainbow trout legally in the park will technically be violating Montana possession limits should they take those trout out of the park to West Yellowstone or Gardner (two places where most visiting anglers overnight if not staying in the limited park facilities.)
A Montana Fish, Wildlife and Parks representative in Gardiner, Montana confirmed the potential violations if Yellowstone anglers brought too many fish outside the park. But like the Yellowstone rangers, Montana wardens are given significant discretion in dealing with this type of violation and the representative was unaware of any citations ever being given yet.
There are obviously good reasons to protect native species, but destroying world-class fisheries in the process is something that's hard to imagine. Equally frustrating is the creation of regulations that are essentially unenforceable and will have little positive impact on native trout conservation and have significant potential to damage World Class trout fisheries in Montana. At the time the Native Trout Conservation Plan was published in 2011, John Juracek, a seasoned veteran of Yellowstone wrote a piece that summarizes the frustration anglers feel with this heavy handed approach to protecting native species—Wild Trout Lose Again. Anglers are losing as well.