Guest Blogger: Mike Cline, Bozeman MT
Just about every year now, my second cousin Matt visits me in Montana for a few days of fishing. Matt lives in Auburn, Alabama and has a budding career in the technology sector. His grandfather and my uncle Fred was an avid and very adept angler. Fred was my mother's youngest brother, one of seven siblings all born or growing up in depression era Alabama. Raised in Birmingham, Fred grew up in a steel town where his older brother John and most of John's brother-in-laws worked in the mills. He learned to fish for catfish, brim and bass from his brother John in flimsy boats on the Warrior and Coosa Rivers in the company of rough men. Although Fred to my knowledge never became an avid fly fisherman, his brother John was. As very young kid visiting Alabama in the 1950s I remember seeing these marvelous hand painted bass poppers made out of cork and feathers in John's basement. Fred survived WW II as a B-25 flight engineer and returned to Alabama to start a life. He eventually got an engineering degree from Auburn University and had an extremely productive career with NASA and the space program in Huntsville where he lived the remainder of his life.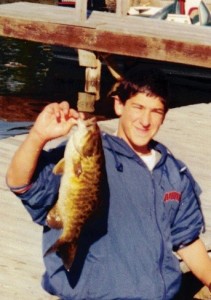 Rocket ships may have been his day job, but fishing was something Uncle Fred loved to do. He knew where and when to find the fish—brim, crappie, catfish and his favorite "stripe". When I was first stationed in Alabama at Maxwell Field in Montgomery in the mid-1970s, Fred always made me feel welcome and took me fishing anytime I could find my way to Huntsville. He was always teaching me about fishing and telling me stories about the good ole days, many of which I heard repeated dozens of times. When I went to Alaska in 1975, it wasn't long before I was inviting Fred to join me there for some salmon and trout fishing. For a few short weeks, I was the teacher. When I finally returned to Alabama in 1991 his grandson Matt was now tagging along on some of our fishing trips. Matt had the makings of a fine angler from an early age because he really wanted to learn how to catch fish like his grandfather and never stopped asking questions.
By now I had my first real bass boat and was plying the waters of the Coosa and Tallapoosa Rivers on a regular basis hunting spotted bass, brim and "stripe". I think Matt was nine at the time when we convinced his mother to let him spend a week with my wife and I in Montgomery. At the time I remember it being a bit traumatic for her to let her only child leave home for a week. We fished for a week with me taking Matt to the various places I fished on a regular basis. At age nine, there were a lot of bobbers, minnows, crickets and tangles but it was important that Matt caught fish. Whenever I picked up the fly rod or ultralight spinning rod, Matt would want to try and the mentoring began. It took a while for the fly fishing stuff to catch on, but he eventually became and still is today an excellent caster.
When my wife and I planned our 2nd vacation to Lake Kabetogama in Voyageurs National Park in Northern Minnesota in the summer of 1993, we convinced Matt's mother to let him come along. This was a big adventure for a 12 year old kid. When we got to our cabin after a day and a half of travel, showed Matt his room and told him to unpack and put away his stuff, he yelled "Where do I put all this stuff." Having not paid very much attention when we left Huntsville, I hadn't noticed that Matt's mom had loaded up a rather large suitcase. Something like nine pairs of clean pants, two pair of underwear and socks for each day, innumerable shirts, and several pairs of shoes. She wasn't going to have her son wearing dirty clothes in Minnesota. The education continued (for a two week trip) I advised Matt: maximum of two pair of pants, two pair of shoes—something to fish in and something to not fish in, the number of pairs of underwear commensurate with your tolerance for discomfort, two shirts and of course three pairs of socks, two of which it's OK to return home clean. The next time Matt came to Minnesota with us, he had no trouble putting his clothes away.
I have lots of stories I could tell about Matt and his journey in becoming a fly fisherman. But one that sticks with me involved another routine day on Lake Kabetogama during one of our trips up there in the 1990s. On Kabetogama and nearby Namakan Lake, we'd target smallmouth bass and northern pike, leaving the walleyes to those guys who like to go deep. Over the years, I'd figured out where and when to catch smallmouth and pike on the fly in these lakes and catching was pretty reliable. We'd stayed at the same resort for ten consecutive years making two week trips every summer. Familiarity breeds success. Kabetogama and Namakan are big lakes oriented for the most part on an East-West axis. Strong SW winds during unsettled weather can create some dangerous, essentially unnavigable conditions for small boats. Such were the conditions this summer evening. If we wanted to fish, we'd be restricted to some sheltered bays near the resort.
At some point a few years in the past, I'd built Matt a 5 weight fly rod, got him a good reel and line so he could fly fish down in Alabama anytime he found a chance. He had that fly rod with him on the day. In a sheltered bay near the resort, I knew where there was several 100 yards of weed line up against a rather deep, rocky bank. The weeds were very thick and extended 50-75 feet off the bank. There was about ten feet of open water behind the weeds in which northerns would lurk. We were throwing un-weighted red and white or blue and white deceivers that measured about 5 inches long. Not difficult to cast at distance. Drop the fly into the open water behind the weeds, twitch it slowly and a northern would strike. Getting it back through the weeds was the real challenge. Long casts were required, but I knew Matt could make the distance. Since I had "Front Boat Advantage" as Matt called it, I was routinely hitting the open water and catching fish. Matt wasn't and I could sense his frustration. Although I tried to keep the boat as close as possible, Matt just could not make the distance. Of course I was chiding him about it, making the frustration worse. Finally he said, "It's the rod, it's not as good as yours," or something to that effect. Of course I took the challenge, took the rod from him and began to cast to the open water. I couldn't make the distance either. Then I looked at the fly line. Matt, "When was the last time you cleaned your fly line? Have you ever cleaned it since I gave it to you?" Of course he replied: "Never, I didn't know I was supposed to do that." Well that evening he learned how to properly clean a fly line. He had already learned why.
Matt is in his late twenties now with a career and family of his own. When we get to fish together, he never fails to provide me the opportunity to mentor him on fishing, and I never fail to take advantage of the opportunity. Likewise, he never fails to show me how much he's learned. Just like his grandfather Fred did with me, the mentoring always continues. I can't wait to tell you about the time Matt…..