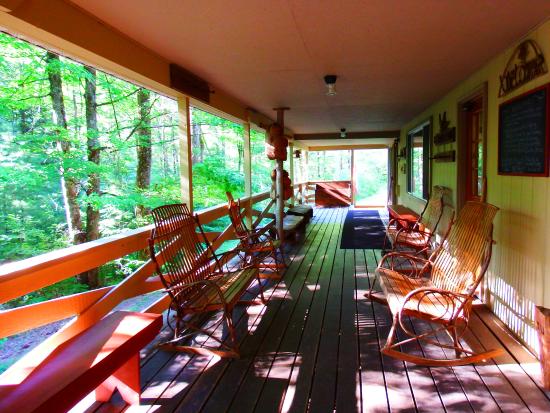 Guest Blogger: Mary S. Kuss, Life-long avid angler, licensed PA fishing guide, founder of the Delaware Valley Women's Fly Fishing Association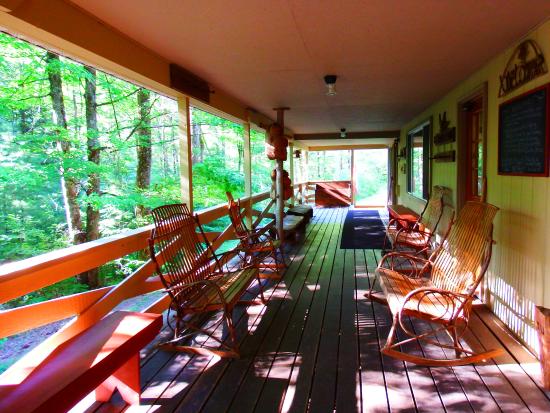 Every year since the mid-1980's I've spent a week or so fishing in north central Pennsylvania. I headquarter in Potter County, and most of my fishing is done there although I also wander out into neighboring Lycoming, Clinton, and Tioga counties. Early on I started referring to this trip as "My Sanity Fix." I still regard it that way.
This habit got started when I was having a chat with some of my Trout Unlimited buddies about wild trout. Some of us had never caught a wild trout, others had very limited experience, and a couple of us had enough experience to know where and when to pursue them. We resolved to visit what the State Office of Tourism subsequently labeled "The Pennsylvania Wilds." So it began.
The first couple of trips we stayed at the Cedar Run Inn, in the tiny village of the same name. Later we would rent a cabin in Oleona, on the other side of the mountain. Now I stay at Kettle Creek Lodge, a delightful bed & breakfast right next to those cabins, and owned by the same lovely couple, Steve and Laura Benna.
Steve was a bachelor when he acquired first the Lodge, then the cabins. I remember when he and Laura married, and the births of their two daughters Olivia and Alison. I remember holding the girls when they were infants, so it seems surreal that they are now teenagers exploring college options.
When Olivia arrived, she was the first baby born in Oleona in 53 years. It was planned for Alison to follow as soon as possible so that they would be close enough in age to be playmates for one another. My prior track record with holding babies was not good. They would invariably start screaming within seconds, and there would be a quick hand-off back to a parent. The Benna girls, however, were both remarkably well-mannered. They smiled and cooed at me and did everything an adorable little baby is supposed to do and nothing that you'd hope they wouldn't. I was charmed.
The Lodge is rustic yet clean and comfortable, the hospitality warm and friendly, the breakfasts tasty and hearty enough to hold an active angler well past lunchtime. On busy fishing days, lunch is often a mid-afternoon affair consisting of a double-dip ice cream cone at the Oleona village store. This tides us over until an early supper, followed by a long evening of fishing. I've settled on scheduling my trip for the first or second week of June, so as to meet the Slate Drake hatch. The long day length at this time of year means coming off the water at 9 p. m. or later. After gearing down and making the drive back to the Lodge there's a brief pause to unwind, then tired anglers fall gratefully into bed for a well-deserved and much-needed night's rest.
One of the nicest things about this trip is the opportunity to truly "unplug." There's no cell phone service in these mountains, although there's been talk for years of installing a network of towers to provide it. Those addicted to their smart phones will find this unbearable, but I love it. The Lodge is also without television reception. Many area residents have satellite dishes, but the Lodge does not. How wonderful it is to find respite, however temporary, from the constant barrage of depressing news and political intrigue that we endure in our daily lives these days.
There is a "TV Room," at the Lodge, with a nice array of videos, but it sits vacant most of the time. Most guests prefer to spend idle time reading, crafting, or in conversation. They may sit on the expansive deck, which overlooks the Little Kettle Creek valley, or in the living room with its comfy overstuffed sofas, fireplace, and assortment of fish and game mounts.
These include a full-body Mountain Goat that Steve bagged on a western hunt, and from which a particularly cheeky guest once snipped some hair for fly tying. That is but one of several legendary incidents at Kettle Creek Lodge. There's the story of the deer hunter who brought his rifle into his room, not realizing it was loaded, and killed the Bunn coffee maker in the dining room when a round went through the wall. And the renters who, frustrated by rainy weather, started a campfire under cover on the deck of their cabin. Or the time the power to the cabins went out when a Flying Squirrel got into a transformer box. Steve is quite the raconteur, and entertains his guests with an extensive collection of great stories.
I have just returned from my 2017 trip. Last year I had to go in the fall rather than in the spring, and there was an awful drought in progress. Many of the streams had nothing but a trickle of water running down the middle, with wide expanses of stream bed left high and dry. Projections have been made of the probable effect of Climate Change on wild Brook Trout populations in Pennsylvania, and the news is not good. One hopes things will not turn out as badly as predicted. Meanwhile, this is clearly a resource to be treasured and enjoyed while it's still possible to do so.
The drought understandably knocked back both fish and insect populations, which meant that this spring's fishing was not as stellar as usual. A cool, wet spring has done much to spur recovery from the drought, however. We had to work for our trout on this spring's trip, but the wild Brookies we caught were as feisty and stunningly beautiful as ever. We catch stocked trout in these mountains too. Although they are put in some places where I wish they were not, many folks love them and they have their role to play. I do fish for them, mostly to enjoy the change of pace of fishing bigger water.
I may go up again in the fall, if weather and water conditions are favorable. I'm getting older, and I don't know how many more years I'll be able to bushwhack along the mountain streams, clambering over boulders and blow-downs. Each trip is precious now. I have many wonderful memories to sustain me, and I hope I can store away a few more.