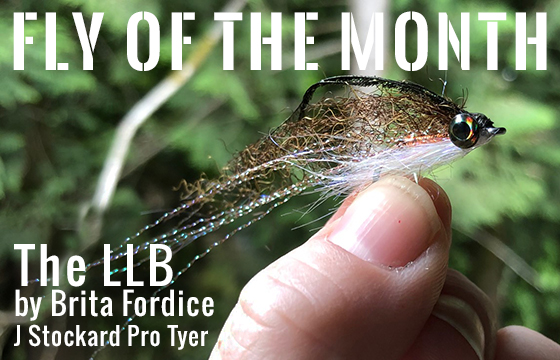 J. Stockard Pro Tyer and fly fishing guide: Brita Fordice, Bremerton WA, find Brita on Instagram
The LBB (little brown baitfish)
This pattern was born from the necessity that sea run cutthroat in saltwater love salmon fry. They also love to eat anything that is copper. So I thought "hey, why don't I combine the two?!" Turns out that in the end I don't care what they're taking it as, because this thing works in lakes, rivers, and saltwater for all trout.
Recipe:
Hook: size 6 or 8 stainless steel hook (for saltwater) I used a Daiichi, but an SC15 Gamakatsu would work too or a TMC 811S
Body: Copper flat braid.  I used Lagartun braid
Flash:  Midge Flash root beer
Wing:  Strung fuzzy fiber brown
Spine: Peacock Herl
Throat:  Ice Dub minnow mix
Eyes:  Living Eyes size 4mm earth color
Thread:  Mono Thin tying thread

Instructions:
1. Wrap shank of hook with thread.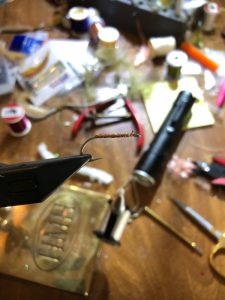 2. Tie in copper braid and wrap up to behind eye.

3. Fold 3 pieces midge flash around thread and tie in extending back past hook bend.

4. Cut a small chunk of fuzzy fiber that is approximately 4 inches in length. Tie in at head in the middle of the section, fold back, and tie down. Cut to form minnow shape.
5. Add 2-3 pieces of peacock herl for spine.

6. Turn over. Hand stack a small pinch of ice dub minnow mix and tie in at middle, fold back, and tie down for throat.

7. Whip finish.
8. Add eyes on both sides. UV cure or epoxy and done.