Guest Blogger: Michael Vorhis, author of ARCHANGEL suspense thriller, OPEN DISTANCE adventure thriller & more to come
Please indulge me while I verbosely ease my way into a useful little gear tip:
I learned a long time ago that 50% of most kinds of physical pain is fear.  Take a fall, something hurts like blue blazes, you find yourself limping and grimacing and groaning into the doctor's office to get an x-ray…then you hear "just a deep bruise, nothing to worry about," and as you leave it suddenly doesn't hurt half as much.
Aggravation can be like that too, and I'm here to offer that "just a bruise, easily resolved" assurance for one particular fly fishing annoyance.
The aggravation I have in mind fell out of a few gear decisions I'd made.  I typically use a 5-weight rod of my own build, which worked fine for years until I fought a big Chinook on it for over three hours…and realized later that I could feel a "shifting" in the cork grip, left, right, left, whenever I cranked in line.  Maybe just a millimeter each way, but I could feel it.  Naturally I was terrified that the cork grip of a rod I'd spent hundreds of hours building had broken loose inside and was no longer glued firmly to the blank.  I feared that the epoxy I'd used had been old and had come loose under that epic battle's load.
It was a distraction during fishing.  Strangely it got worse when I bought a new reel.  I have a floating line that's fatter than other lines, and it's also a hundred feet long; it wouldn't fit on my 4-6 weight large arbor reel no matter how little backing I used.  I bought a reel made for 7-8 weight lines, and the line fit, but the left-right "shifting" every time I cranked in line got worse.
Eventually I realized it was not the handle that had broken loose; the problem was that the reels slipped slightly left and right on the reel seat…especially when I wound in line.  The larger reel was worse because the concave reel foot was made for a larger diameter rod blank.  Then I spent months trying to decide how to make it fit right – a thin line of waterproof tape down one side of the reel foot?  Nah…it'd ooze its way around over time.  Machine the reel foot to be more concave?  Complicated and dangerous.  Other solutions came and went.  Plus the smaller reel still also had the problem.
I'm not the only one whose reel does this, else I'd not write this up.
The solution proved to be trivially simple, and I stumbled on it by accident.  I happened to buy a new rod that had a little rubber band the size of a small wedding ring down on the reel seat, I guess to keep the mechanism from rattling around during shipping.  When I tried one of my reels on that new rod for fit, I forgot to take the tiny rubber band off.  My reel pinched right down on it.  Guess what?  No left-right shifting!
So as the light bulb in my dim brain sparked and blinked, I hunted down my daughter's old "rainbow loom" kit from her kindergarten days, which is basically a collection of durable but tiny rubber bands – see Figure 2.  They come in a hundred lovely colors and are just the right size.  I picked a lime green one for the new dark green reel seat and a plum-colored one for the beechwood-tone reel seat of the rod I'd previously built.
Just put a rubber band on your reel seat in about the right place and you're done.
Most rods have up-locking reel seats; for those, the best place for the rubber band is somewhere between the midpoint and the cork grip.  Put the reel on overtop the rubber band so that the rubber band gets squished under the reel's foot. Otherwise the reel attaches normally.
Being odd, I prefer a down-locking reel seat to minimize the length of the rod butt that extends "south" of the reel (I tend to get line looped around "fighting butts").  They're much harder to find than up-locking reel seats, but that's what I used on the rod I built.  For a down-locking reel seat, the tiny rubber band should go somewhere between the midpoint and the end butt of the rod…and again the reel should be put on overtop the rubber band, so that the rubber band gets squished under the reel's foot when the reel is attached.
It's very simple, takes only a few seconds, no rod or reel need be altered, nothing gooey…and the reel is much more solid now, in use – any movement is greatly reduced and damped out.  If the rubber band ever gets cut, just put a new one on. If it still wobbles just a bit, a second rubber band near the other end of the reel foot dampens it even more.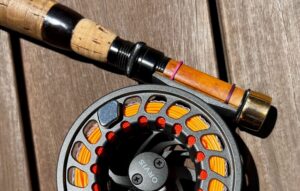 Aggravation gone!  Now to solve all my others…the branch snag, the flybox spill…the ear hook….