Guest Blogger: Mary S. Kuss, Life-long avid angler, licensed PA fishing guide, founder of the Delaware Valley Women's Fly Fishing Association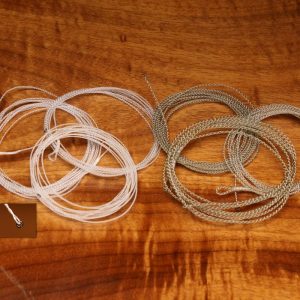 I went on a fishing trip to north-central Pennsylvania in late-September, and took the opportunity to field-test Hareline Dubbin's 10 ft. Floating Furled Leader.
When I first began fly fishing, in the late-1960's, knotless tapered nylon leaders were a new technology. The early ones were pretty bad; manufacturers still had not worked out effective tapers. I kept right on tying my own knotted tapered nylon leaders from scratch, as had become my habit.
Some years later, I discovered both braided-butt and furled leaders at about the same time. Having tried both types, my conclusion was that they share two major faults. When you snag your fly and have to break off, the leader stretches significantly as you pull against the snag. When the tippet finally breaks, the leader snaps back and ties itself into some very interesting knots that have to be picked out. Sometimes the tippet gets involved, and you have to remove and/or replace it to get the mess sorted.
The other problem with these leaders is the end to which the tippet is attached. This is the weakest link in the braided or furled leader system. The thin end of the leader consists of a tiny loop or, in the case of a furled leader, a doubled loop. Whether you attach your tippet by knotting it directly to the loop or by means of a "handshake" connection, the front loop is the first part of the leader to wear out.
Despite these problems I felt, and still do, that the advantages of braided or furled leaders far outweigh their disadvantages. They have no memory, and don't need to be straightened before use. They come out of the package limp and straight and ready to go. They have a very long working life, unless abused. All you have to replace is tippet.
I have found braided and furled leaders comparable in performance, and both superior to solid monofilament leaders whether knotless or knotted tapered. However, it was far easier to restore the front loop on a braided leader versus early-generation furled leaders. Since the braided leader is hollow it's possible, with some difficulty, to use a needle to splice in a new front loop when the original loop wears out. This is a major reason why I settled on braided rather than furled leaders as my preferred leader type, and have happily used them for many years.
I'm always open to trying something new, however. When Kate at J. Stockard suggested it, I welcomed the opportunity to field-test a modern furled leader. I chose the 10 ft. Floating Furled Leader, rated for 4 to 5-wt. fly lines, for my review. I was immediately impressed with this leader. It was a nice subtle dun color, and had excellent flexibility. This is very helpful when attempting to turn over a long tippet. Best of all, it incorporated a tippet ring at the front end. No more fragile, doubled loop to wear out.
During the four and a half days of my Potter County trip I gave the leader a thorough work-out. Due to extended droughty conditions the creeks were painfully low and gin-clear. Although my fishing companions and I found more wild and hold-over stocked trout than might have been expected under these conditions, they were exceedingly hard to approach without spooking. Even when it was possible to move into casting range without causing the trout to flee in terror, the first cast would send them scurrying no matter how delicate the presentation.
On the first evening of the trip, I walked a good distance along Kettle Creek to a pool I knew where I thought there might be enough water to hold trout and for them to be relaxed enough to approach. I put on a caddis dry fly and began methodically covering the pool. The furled leader performed beautifully, laying the tippet out nicely and landing gently, with just the right amount of slack to provide a good, drag-free drift. Unfortunately, with the exception of a few chubs, no fish were coaxed to the surface.
Regrouping, I considered my options of what to try next. There didn't seem to be enough current to drift nymphs. Of course there was the possibility of probing the depths of the pool with a heavily-weighted Woolly Bugger—no doubt a potentially effective strategy but not my first choice of how I'd prefer to fish. I thought about what the trout might have been feeding on, and the obvious answer was those chubs I'd been catching. I opened my fly box and my eyes fell on a Winnipesauke Smelt. It looked like a good match.
I replaced my 5X tippet with a shorter length of 4X and knotted on the streamer. I roll-cast the fly a short distance out into the pool, a maneuver which the leader performed flawlessly. I allowed the fly to sink a few inches below the surface and began twitching it along with the tip of the rod. It darted forward, and I noted how very much it resembled a small minnow. Just as I had this thought, a Brown Trout loomed up under the fly and took it with a vicious snap. After a very respectable fight, I brought the 13-inch hold-over to hand for a quick photo and release.
Fishing improved on the last day of the trip, after overnight rain raised stream levels a few inches. Thanks to the forested watersheds in "God's Country," the water colored only slightly—enough to make the fish a little more approachable yet not reduce visibility much. We decided to try upper Kettle Creek, a good choice. I rarely fish anything but dry flies here, and a #14 caddis produced well.
The floating furled leader performed very well yet again. It was supple enough to allow a tight casting loop to be directed under low-hanging branches. At one point I snagged my fly on an inconveniently-placed stick protruding from a submerged deadfall tree. Rather than disturb the water by wading out to retrieve the fly, I elected to break off. I should have known that would be a mistake. As much as I liked this leader, I don't think there's any way to solve the problem of stretch, rebound, and tangling with furled or braided-butt leaders.
The addition of the tippet ring is genius. It effectively removes the issue of rebuilding the front loop. That factor alone just may cause me to abandon my favorite braided-butt leaders in favor of furled. If you've never tried furled leaders, I'd suggest doing so. I would not hesitate to recommend the leader I reviewed here.