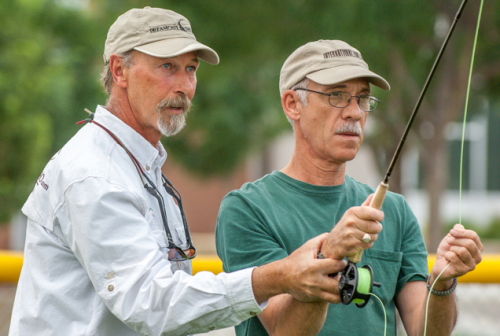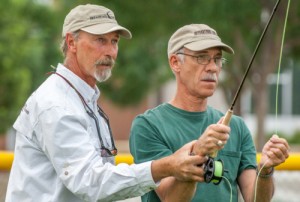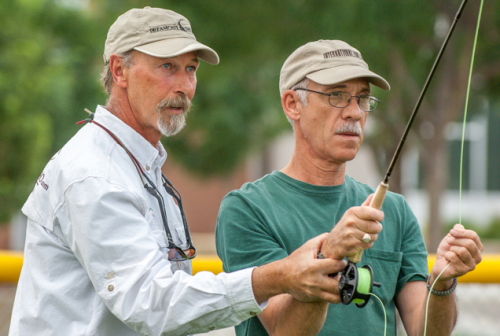 Guest Blogger: Mike Cline, Bozeman, MT
Fly fishing is a great sport and fantastic recreation. I've been lucky enough to have been an active fly fisherman for over 50 years and have enjoyed catching fish of all kinds on flies. Of course where I live now in Bozeman, Montana fly fishing for trout might just be considered the normal method of fishing while more traditional methods of spinning, bait casting and such aren't as popular. It's not really the case when one examines the fishing gear available in the sporting goods store. But since the movie "A River Runs Through It'' came out, southwest Montana remains a mecca for any serious fly fishermen. But in places like Alabama and Minnesota where I fished a lot in the 1990s and until 2008, fly fishing was the exception. But in Mecca and in heathen lands, when non fly fisherman see the sport taking shape on television, in movies or in-person, they become intrigued and get that urge to learn to "fly fish". When that urge becomes compelling and relentless, what is Step One in taking up the sport of fly fishing?  In my opinion its Learn basic fly casting!
There are really two different kinds of people who try their hand at fly fishing—those who already know how to fish and those that don't. In either case, the essential skill that is lacking is the ability to cast a fly a reasonable distance, with some accuracy, and with some consistently. Absent that skill, even the best fly fishing gear on the finest waters in the land won't do the novice fly fisherman much good. I think the worst time and place to learn basic fly casting is on the water while actually trying to catch fish on the fly. I know many professional guides who feel the same way. In other words, you shouldn't learn to shoot a rifle or shotgun for the first time while in the field hunting deer or birds—there are safe ranges with good instructors for that. Experienced anglers are usually the ones that think they can pick up a fly rod and learn quickly on the water. They already know where the fish are and how to catch them on lures and such, how hard can fly fishing be?  Novice anglers are far more malleable to the recommendation to go about this in the right way. Accomplish Step One first—learn basic casting—no matter how good an angler you might be.
I was extremely fortunate to learn fly casting at an early age from accomplished casters on the lawns and pools of the Pasadena Casting Club in Southern California back in the 1960s. It was actually years before I started seriously pursuing fish with a fly rod. But once I had learned the basics and felt comfortable with a fly rod in my hand, it became easier and easier to hone my skills on the water, or if I felt like practicing, on the lawn. Although I didn't realize it at the time, the investment I made in learning basic fly casting and the investment in time that old timers at the club were willing make to teach me, was one of those decisions that has paid a lifetime of dividends. Fly fishing hadn't reached the level of popular interest in the 1960s that it enjoys today. The availability of professional fly casting instruction was far more limited and I was lucky to have access to accomplished casters who were also just plain good teachers. Knowing how to cast properly and effectively informed my decisions when I bought my first fly rods. In retrospect, those buying decisions made 50 years ago seem just as sound today as I thought they were then. Today's novice or aspiring fly angler lives in a different world. Strong marketing messages, sophisticated fly rods and fly lines, exotic locations and popular culture and media have elevated fly fishing to levels of glamor and prestige that is hard to resist. Aspiring fly anglers see the hype and ignore or are unaware of Step One even though a great solution is readily available.
In 1992 the International Federation of Fly Fishers established their Casting Instructor Certification Program. Today there are hundreds of professional casting instructors around the world that aspiring fly anglers can tap into to take that first step. They are easy to find and arrange professional casting instruction for reasonable fees. The Warriors and Quiet Waters Foundation in Bozeman puts dozens of wounded U.S. military veterans through fishing experiences that include professional casting instruction every year. As a volunteer in the program, I've seen professional instructors take complete novices through Step One in just a few hours. Once on the water, their casting competency is sufficient enough to really enjoy the experience of fly fishing and catching fish on flies. By taking the time to accomplish Step One, they have prepared themselves to embark on the enjoyable journey of becoming an accomplished fly angler should they so choose. This is something every aspiring fly angler should do—take professional casting instruction. Invest in the future which will only be exciting, fun and productive if you become a proficient fly caster.
Unfortunately, Step One is not mandatory. There's no requirement to know how to cast to buy or borrow a fly rod. There's no requirement to know how to cast when you go on a fly fishing trip with your buddy thinking he's going teach you how to cast. And generally, in my experience, aspiring fly anglers who don't take Step One seriously get frustrated very quickly making learning all those other steps like how to fish different flies, different lines, different types of water, etc. very difficult. Step One should always come before steps 2-10.