Guest Blogger: Mike Cline, Bozeman, Montana
For anyone that has listened to Public Radio for any period of time, the phrase "Be Well and Do Good Works" probably rings familiar. It was something that humorist Garrison Keillor used to close many of his radio programs. When I thought about writing a story about this year's  Madison-Gallatin Trout Unlimited banquet, it was a phrase that immediately popped into my head. There's little doubt in my mind it describes Trout Unlimited to a tee. "Be Well" – maintaining the health and welfare of cold-water fisheries. "Do Good Works" easily describes any number of TU projects across the U.S.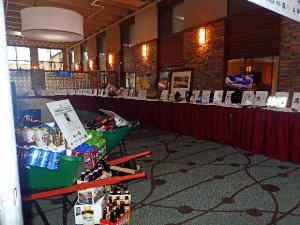 For the last several years I've been an active supporter of the Madison-Gallatin Chapter of Trout Unlimited in Bozeman, Montana. The chapter holds an annual fund raiser banquet every February as its only serious fund-raising effort of the year. After attending a few banquets shortly after I moved to Bozeman in 2008, I started donating J. Stockard gift certificates funded with my reward points and swag provided by J. Stockard for the silent auctions and bucket raffles. Three years ago, with the generous support of J. Stockard, I started loading up a variety of fly boxes with dozens of my favorite flies for the silent auction. I found it very rewarding to see boxes of flies that I had tied generate $100s for the chapter. Because I would be working a bit less in 2018, I joined the chapter's banquet committee to help even more and get some behind the scenes insight to all the tasks necessary pull off a successful fund-raising banquet.