Guest Blogger: Mike Cline, Bozeman MT
Just about every year now, my second cousin Matt visits me in Montana for a few days of fishing. Matt lives in Auburn, Alabama and has a budding career in the technology sector. His grandfather and my uncle Fred was an avid and very adept angler. Fred was my mother's youngest brother, one of seven siblings all born or growing up in depression era Alabama. Raised in Birmingham, Fred grew up in a steel town where his older brother John and most of John's brother-in-laws worked in the mills. He learned to fish for catfish, brim and bass from his brother John in flimsy boats on the Warrior and Coosa Rivers in the company of rough men. Although Fred to my knowledge never became an avid fly fisherman, his brother John was. As very young kid visiting Alabama in the 1950s I remember seeing these marvelous hand painted bass poppers made out of cork and feathers in John's basement. Fred survived WW II as a B-25 flight engineer and returned to Alabama to start a life. He eventually got an engineering degree from Auburn University and had an extremely productive career with NASA and the space program in Huntsville where he lived the remainder of his life.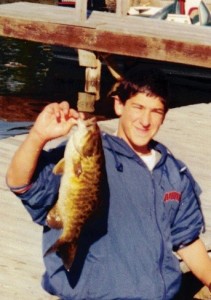 Rocket ships may have been his day job, but fishing was something Uncle Fred loved to do. He knew where and when to find the fish—brim, crappie, catfish and his favorite "stripe". When I was first stationed in Alabama at Maxwell Field in Montgomery in the mid-1970s, Fred always made me feel welcome and took me fishing anytime I could find my way to Huntsville. He was always teaching me about fishing and telling me stories about the good ole days, many of which I heard repeated dozens of times. When I went to Alaska in 1975, it wasn't long before I was inviting Fred to join me there for some salmon and trout fishing. For a few short weeks, I was the teacher. When I finally returned to Alabama in 1991 his grandson Matt was now tagging along on some of our fishing trips. Matt had the makings of a fine angler from an early age because he really wanted to learn how to catch fish like his grandfather and never stopped asking questions.