Guest Blogger: Mary S. Kuss, Life-long avid angler, licensed PA fishing guide, founder of the Delaware Valley Women's Fly Fishing Association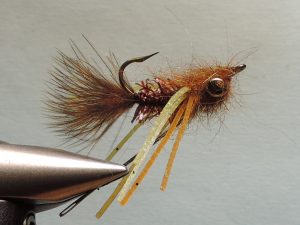 I've been looking for a few good crayfish fly patterns for many years. I've rejected the vast majority of the ones I've come across. Many of them have a very realistic appearance, but are overly complex for my taste. They tend to be both time and labor-intensive to tie. These are not good traits in a fly that will be put at risk in the hazardous environment of a stream bed. The other problem with these elaborate ties is that, despite looking as though they could crawl away on their own, most of them simply do not fish well. A good imitative fly pattern not only has to resemble the natural food item in question, it also has to behave like it once in the water.
When I discovered the Clouser Crayfish, in the mid-1980's, I felt that I finally had a keeper. This excellent design proved very effective when fished dead-drift in riffle and run areas of my favorite warmwater streams. However, it did not track and behave well when actively retrieved. I began to understand that it might be necessary to have two go-to crayfish patterns—one for drifting and one for retrieving actively. I had my dead-drift pattern, now I needed to find a good swimming crayfish pattern.