Guest Blogger: Mary S. Kuss, Life-long avid angler, licensed PA fishing guide, founder of the Delaware Valley Women's Fly Fishing Association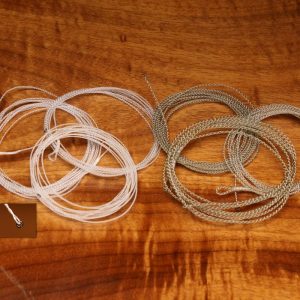 I went on a fishing trip to north-central Pennsylvania in late-September, and took the opportunity to field-test Hareline Dubbin's 10 ft. Floating Furled Leader.
When I first began fly fishing, in the late-1960's, knotless tapered nylon leaders were a new technology. The early ones were pretty bad; manufacturers still had not worked out effective tapers. I kept right on tying my own knotted tapered nylon leaders from scratch, as had become my habit.
Some years later, I discovered both braided-butt and furled leaders at about the same time. Having tried both types, my conclusion was that they share two major faults. When you snag your fly and have to break off, the leader stretches significantly as you pull against the snag. When the tippet finally breaks, the leader snaps back and ties itself into some very interesting knots that have to be picked out. Sometimes the tippet gets involved, and you have to remove and/or replace it to get the mess sorted.
Continue reading → Review of Hareline's 10-ft. Floating Furled Leader