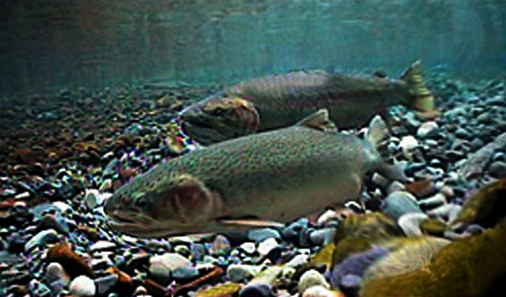 Guest Blogger: Michael Vorhis, author of ARCHANGEL suspense thriller, OPEN DISTANCE adventure thriller & more to come
How many kinds of trout pine to run away and join the circus? All kinds…although not all individuals and not all at once. The "circus," is, of course, the sea, where sea-horses cavort and clownfish amaze. But we'll focus on one kind: Oncorhynchus Mykiss, the fish that conquered the world–the unquenchable Rainbow.
Rainbow trout spawn in the spring–roughly April/May, although it's said that "spring" can start as early as January on some rivers. They can share streams with browns easily as long as there's sufficient food supply, because their need for prime spawning water occurs at a completely different time of year.
This holds true of steelhead too–which are, of course, rainbows who have heeded the anadromous call. It's a springtime gig, period. Even in the Southern Hemisphere, such as in New Zealand, it's a springtime party–August to November down there.