Fred Klein Author, Fly tyer and fisher of early traditional flies. Fly fishing historian, author and speaker.
My journey in pursuit of trout with the fly began 45 years ago with a new fly rod and instructions to cast and drift a fly. What a gift that was. The woods and waters of Pennsylvania, the Appalachian Mountains and beyond have brought a life of admiration for the wilderness,
forests, wildlife, and a thirst for "what lies beyond the next bend in the stream and over the mountain."
The history of fly fishing is a rich and romantic culmination of woodsmen, artists and literature which lies at the heart of early American history. The flies from the 1800s and early 1900s tell a story of their originators: the men and women in pursuit of wild trout and salmon. Their names are recorded in the annals of history along with their flies and stories.
They fished the waters of Maine, New York, Vermont, Pennsylvania and the Rocky Mountains, to name just a few places where these pioneers made their mark. Many of the patterns from the early years of fly fishing in the US (and elsewhere) were elaborate, colorful and artistically designed. They were flies tied on large hooks. Many were tied in hand with no vise, and often on the river banks where the authors fished.
Several exhaustive books were published with descriptions and painted plate illustrations of the most popular fly patterns of their era, giving us a glimpse into the details of the flies and techniques used. The first was Charles F. Orvis's Fishing with the Fly then Mary Orvis Marbury's Favorite Flies and Their Histories.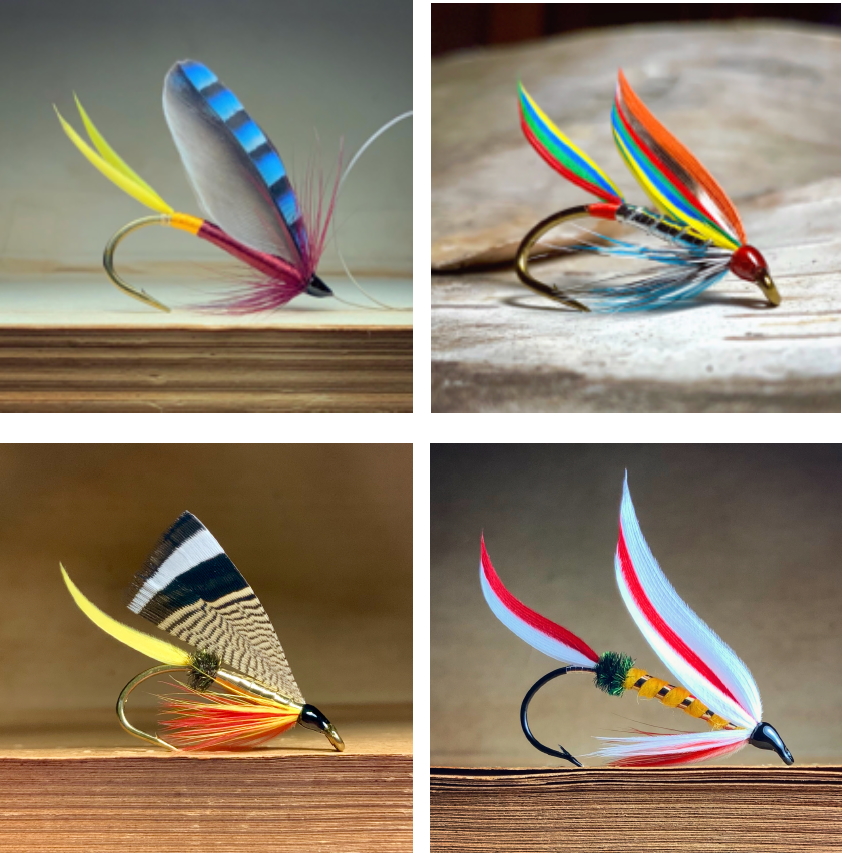 Charles F. Orvis of Manchester Vermont, the originator of the lightweight perforated fly reel as well as the first mail order catalog company in America set out to categorize and name the flies being used by fishermen all over America, writing a book Fishing with the Fly (1883) and a decade later his daughter Mary Orvis Marbury who took over the fly tying operations of the Orvis company wrote another book, Favorite Flies and their histories in (1892) both books with painted plate illustrations and descriptions of 382 flies common during the mid to late 1800's in America. Both books are brilliant works of literature including fly fishing stories and poetry giving us a glimpse into the methods and techniques of the era.
Ray Bergman, born in 1911, was an intelligent and passionate fisherman, publishing his most influential book, Trout, in 1938, just before World War II. He fished extensively throughout the United States and Canada, becoming the editor of Outdoor Life for three decades. A brilliant work of art and literature, Trout included painted color plates of 440 wet flies, streamers and dry flies. It displays a remarkably extensive collection of flies, including many patterns dating back to early America and many originally from England, Scotland and Ireland.
There are a number of talented contemporary fly tiers who have pursued the classical tradition. Our endeavor is to continue the traditional methods and pass them on to the next generation. I hope you might tie a few old flies, and perhaps cast them downstream.
For tutorials, articles, videos and classic fly gallery with over 350 flies visit www.grizzlykingfly.com