Guest Blogger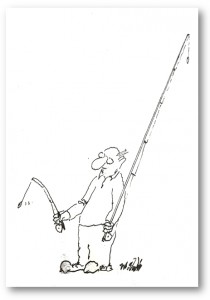 : Michael Vorhis, Michael Vorhis, author of ARCHANGEL suspense thriller, OPEN DISTANCE adventure thriller & more to come.
The debate as to whether size matters has long raged…and nowhere more prominently than among fishermen, in their eternal quest for yet another perfect fly rod. As the years go by we acquire wands we claim are tailored to a variety of precise uses, and those with no obvious specialty we label "backups" or "in case a buddy comes to visit" or whatever else might justify adding them to our collections.
But there's a layered series of misconceptions held by many as to which rod size is a match for a given size of fish. In particular, many fishermen I meet seem to think the purpose of a short rod on a small stream is to give the little fish a chance. They envision feisty bouts of courage and wit against diminutive denizens, all courtesy of the shortness of the wand. Since they cannot change what lives in their stream, they attack the problem by scaling the rod length down, on the theory that doing so will approximate the sport enjoyed against monster steelhead on legendary western rivers. They call it "giving the small ones a chance."They may have arrived at the right conclusion in a very roundabout way, but their reasons for thinking it are usually incorrect. First, a short rod is used by the wise man on tiny streams for only two reasons: Easy packability into remote wilderness or into luggage (and since seven-section 9-foot rods exist these days for carrying up high mountain gullies or through airports with equal ease, this reason is nearly obsolete), and ease of use amid low, overgrown creek canopies. A short rod was never intended to let little fish fight better or longer. We know this because use of short fly rods on tiny woodland streams far pre-dates C&R ethics, and because a short rod affects the escape odds of all sizes of fish equally.
So does a short rod give little fish a chance? No more than it gives big fish a chance…but yes, it can, although not in a way that will give you more sport. Let's take a quick look at why:
Long rods–long thin flexible cantilevers–will let a little fish pull against the light resistance of the rod's tip. So you might think, "Oh, hey, you're right, it's the long rod that gives small fish a better chance!" But ultimately those long cantilevers also keep the line taut and the hook embedded. So while a fish can pull, the system is working relentlessly against its long-term prospects. Naturally that's why flexible rods were invented to begin with.
But (materials and taper profiles being similar) the shorter the rod, the closer to a hand line it becomes. A hand line absorbs minimal shock and minimal surge. So, sans long cantilever, a fish that leaps and runs and charges the boat has a better chance of winning its freedom. The small fish's best hope lies not in the fact that the miniature rod is flimsier but in the fact that it's not. It's a glorified hand line. This, rather than it's appearance of whispy delicacy, is the reason why a short rod gives a fish better odds. Scaling down the length doesn't liven up the fight, but it can most certainly see the line go too taut and too slack and let the fight come to a quick, disappointing halt. And that's not what we want.
For fly fishing, a six-foot rod is considered quite small. Obviously (unless it's a "boat rod" or is made by Home Depot) a six-foot rod still has enough length to supply sufficient cantilever effect…in some conditions…or they wouldn't make them. But not in all conditions, and in principle the concept still applies. And tiny department-store "travel rods" (usually in the spinning gear section) make the hand line analogy more than apparent.
You might be tempted to object, "But a long rod amplifies your leverage against the fish!" Nothing could be further from the truth. The heel of your hand is the fulcrum and the fish is pulling on the far end of that long lever arm, not you. Your index finger has literally got the short end of the stick. The fish is the one with the leverage, and the longer the rod, the more leverage it has compared to you. Now that feels sporting.
So along with other flex-affecting parameters, length does matter. And the next time you consider picking up a micro-miniature rod, a cute little thing, do it for the beauty of the windings or because the vegetation overhang on a certain creek forbids something longer. Those are good reasons. Or if you enjoy sudden failure with no warning and a landing net that rarely gets wet, buy that little rod so you can tell a lot more "one that got away" tales. But don't do it to "feel the lengthy fight of the fingerlings" or to "give the little ones a sporting chance." You'll give them all an advantage, big and small alike, but it won't feel as sporting as your light-action 9-footer would.
Just say, "Long cantilevers are good." And repeat.