Guest Blogger: Steve Culton
Taking a leisurely wade while swinging a team of wet flies is one of summer's most pleasant angling experiences. The cool of the river envelopes your legs, acting as a salve against the stifling heat. Even though there may be no visible hatch activity, you can always expect to catch trout – even in the middle of a bright, sunny day. The swung wet fly draws out the more aggressive fish that are waiting to ambush a rogue emerger or a drowned terrestrial.
Here are three high-confidence wet flies that get a lot of playing time on my team of three. From top dropper to middle dropper to point fly on my leader, the Squirrel and Ginger; the Drowned Ant soft-hackle; and the Hackled March Brown spider. They are fairly simple ties, and you can find all the materials at J. Stockard. Best of all, they are proven fish-catchers.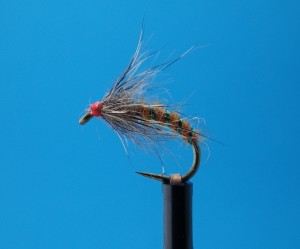 The Squirrel and Ginger
Hook: TMC 2457, size 12
Thread: Hot Orange
Body: Ginger Angora goat
Rib: Green Krystal flash
Hackle: Fox squirrel fur
Since this is a caddis emerger, I like it as the top dropper, where it will always be the fly closest to the surface. Angora goat is a spikey, buggy material, but I prefer to keep the body slim for two reasons: the rib, and most of all, the hackle, which is the real hero of this fly. Fur is under-utilized as a hackling material, but fox squirrel, with its variegations and soft texture, gives the fly a seductive breath of life.
When hackling the Squirrel and Ginger, less is more. Take half – or less – of what you think you need. I find I get the best results by removing as much of the under fur as I can, then stroking the fibers toward the bend of the hook as I wind the dubbing loop. You can see some of the grey under fur still present in the final product. Don't fret if you have a messy head. Remember the sage advice of Dave Hughes: "Trout aren't interested in neatness."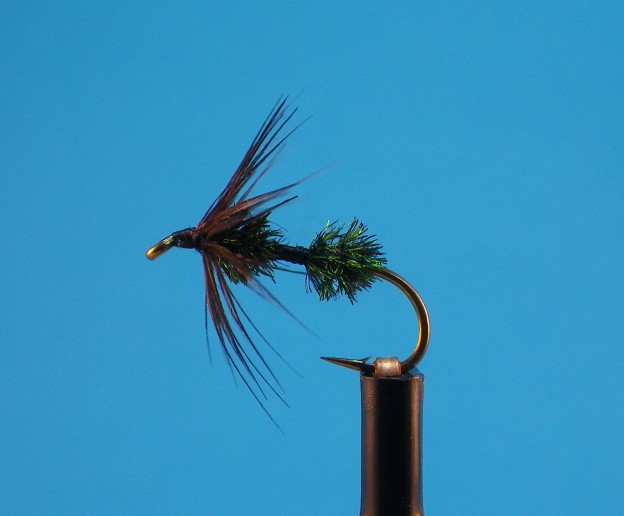 Drowned Ant Soft-Hackle
Hook: TMC 100, size 10-18
Thread: Black 8/0
Hackle: Iridescent starling body feather
Body: Two strands peacock herl, twisted on a thread rope
Segment: Working thread
As we move into summer, terrestrials – ants, beetles, hoppers, crickets, and even field mice – become a significant food source for opportunistic feeders. This fly is a variation of the classic soft-hackle Starling and Herl. All I've done is add a few wraps of thread to form an ant-like body segment. A highly impressionistic pattern, the Drowned Ant it could easily double for any number of darker bodied caddis or stoneflies. Only trout know what they think it is, and at the very least, it's that it looks like something alive and good to eat.
For a more durable fly, make a chenille-like rope of two strands of herl and thread before you wind the body. There are all kinds of feathers on a starling skin. Look for those iridescent purplish ones to add a subtle splash of magic to this terrific little fish-catcher.
Hackled March Brown Spider
Hook: TMC 3769, size 10-12
Silk: Orange Pearsall's Gossamer
Tail: Grey partridge fibers
Body: Hareline Dubbin Rust (HD23)
Hackle: Brown partridge
"March Brown" is a name you see attached to many different wet fly patterns, both mayfly and caddis. The energy of this spider is pure mayfly. The Farmington River has a good summer showing of Isonychia, and I have taken to fishing the Hackled March Brown spider to represent them. Be ready for some violent takes when you fish this fly.
The Hackled March Brown was originally published in 1936 in an English book, Trout Fishing From All Angles. The original calls for a body of "hare's ear dyed red ant colour." I have settled on "rust," and the trout seem okay with it. You could make the body a little buggier than I have here, but I like this fly with a thin profile. There are a multitude of brown feathers on a standard grey partridge skin; they're located along the back of the bird.