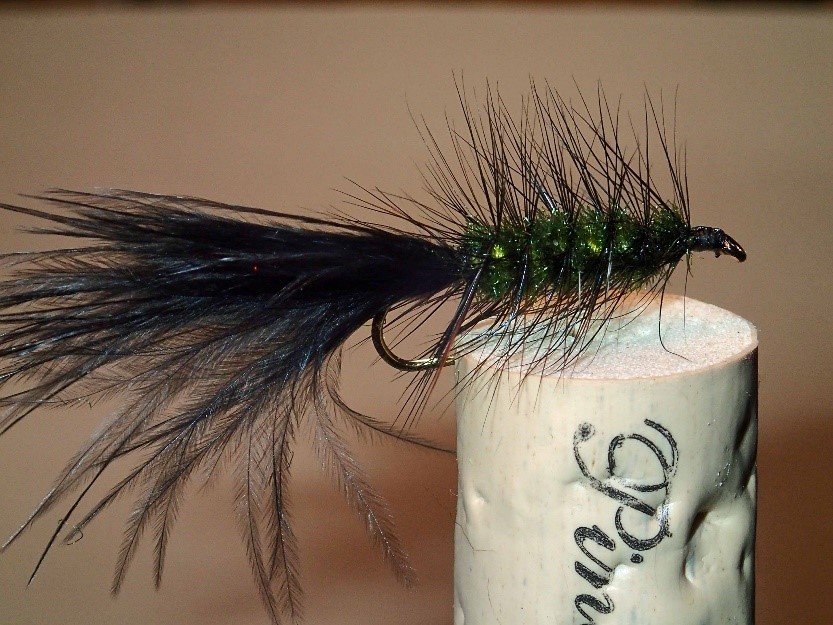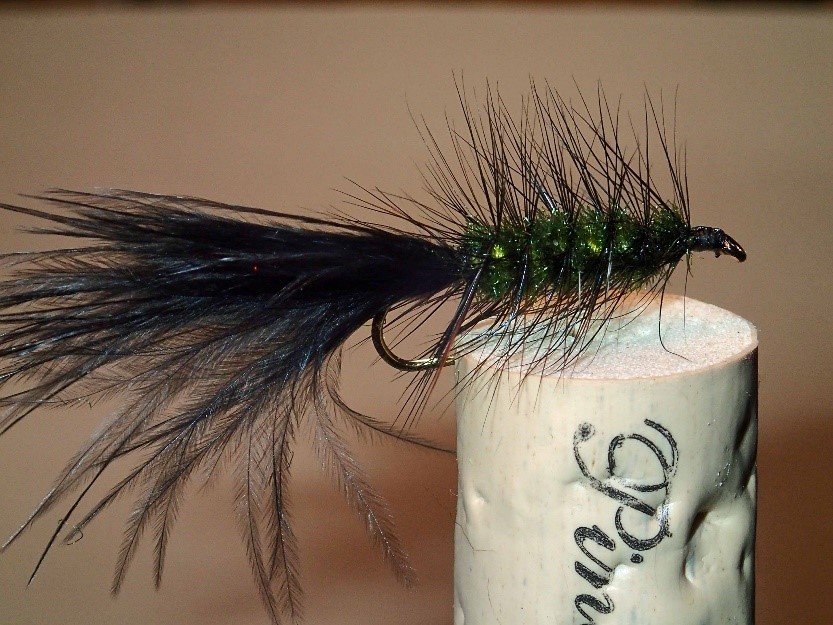 Guest Blogger: Mike Cline, Bozeman, MT
Look in most trout anglers' fly boxes and there's a high probability that it contains a few Woolly Buggers in some form or another. It is an effective fly and just about always appears on recommended fly lists in books and on fly shop websites. The fly has a long history, well documented by Gary Soucie in his book Woolly Wisdom: How to Tie and Fish Woolly Worms, Woolly Buggers, and Their Fish-Catching Kin. Tying Recipes for 400 Patterns! (2005). When I first fished in Montana back in the early 1970s, the Woolly Bugger and Woolly Worm were commonly recommended flies and would be the first flies most fly shops would push on their customers. Back then, before the age of synthetic tying materials we now live in, Woolly Buggers were pretty simple. A clump of marabou, a few turns of chenille and a palmered black or grizzly hackle completed the fly. In the fly shops, most of the commercial flies didn't even use any wire ribbing to protect the hackle. And of course this was a time before beads and cones, so most fly shop flies were un-weighted.
In the early 1970s, most folks were still fishing with slow bamboo or fiberglass rods. At the time I first fished in Montana, the only fly rod I owned was a Fenwick FF70 (a 7', 5 weight glass rod) loaded up with most likely a Cortland HDH double tapered braided line.
This was a relatively slow action rod and was not a rig for slinging around heavy flies. Forty years ago, your typical Woolly Bugger didn't get subjected to the same casting forces we get today from light, fast rods with super slick fly lines.
I've been told that during an average tight looped cast, the fly and fly line will reach speeds up to 40 mph. Influenced by the size and weight of the fly, the various physical forces that a fly undergoes as it slows and turns over on the back cast then speeds up and smacks the water during the forward cast are significant (albeit, far too complicated from a physics standpoint for a political science major to explain with any sense of credibility). Those forces weigh on the material and craftsmanship of our flies.
Although we still regularly employ marabou and hackle in our Woolly Buggers today, the use of synthetics has largely replaced the cotton based chenille of earlier days. One of the problems with cotton core chenille was that when it got wet, the cotton core tended to stretch a bit. This had the effect of loosening the whole chenille body on the fly. With a loose body, the hackle was more vulnerable to breaking. When we started using more synthetic based chenille, there was less stretch but unless the chenille was really wound tightly on the hook shank, there still was a tendency to loosen when wet and after a lot of casting or fish. Commercially tied woolly buggers, especially the cheap ones from Asia were absolute train wrecks from this standpoint. The other issue with wound chenille bodies on buggers is that if the hackle is wound in the same direction as the chenille, it can slip in between chenille winds on an inconsistent basis. If wound counter to the chenille, any loosening of the chenille would loosen the hackle and make it prone to break. Once wet and things begin moving around because of casting forces, the hackle can loosen and break. We've all seen it. After a few casts or fish, one end or the other of the hackle has broken and the Woolly Bugger is no longer. Tiers started adding some wire, counter-wound against the body and hackle to create a more durable fly, but it does add an additional tying step.
Over ten years ago, I began tying dubbed Woolly Bugger bodies instead of using chenille. Almost any type of dubbing could be used, but I've found that long strand dubbings such as Troutsmen Simi Seal are the best. The only change in tying steps is that instead of tying in a strip of chenille and winding it forward, you tie in your hackle and then dub the body forward with the tying thread. The dubbing method
actually provides a very forgiving base for the hackle and doesn't create the winding gaps common with chenille.Long strand dubbing is my favorite because all you need to do is get a few strands started and the dubbing will twist itself around the thread as you wind forward. The other benefit of using dubbed instead of chenille bodies is appearance. Many of the synthetic dubbings available are exceptionally buggy underwater with translucence and sparkle. I don't believe any available chenille can provide the same level of buggyness that some dubbings do. The other upside of using dubbed bodies instead of chenille is the versatility of dubbing in general. Whereas yards and yards of one color of chenille in a particular size might only be used on one or two patterns, dubbing of the same color could be useful on dozens of different patterns in different sizes.
Today, with the exception of my large Pine Squirrel buggers, all my Woolly Buggers have dubbed bodies. Unfortunately, it has left me with a shoe box full of now pretty much useless chenille. I am reminded of a fishing trip in New Hampshire before I moved to Montana. I was working for a few days in Montreal so I added a few days to the trip and ventured over to
Pittsburg, NH to fish the upper Connecticut and Androscoggin Rivers with guide Bill Burnhardt out of the Lopstick Lodge. These are stocked waters but Bill knew where the fish were. As always I wanted to streamer fish bringing along my 5 weight with a 150 grain sink tip. As we floated the Androscoggin in cloudy, drizzly conditions, I caught fish all day, mostly rainbow trout with a few brookies, browns and smallmouth on a #8 Olive Bugger. At one spot after I'd landed over ten fish, Bill asked me how I tied my buggers as I was still using the first fly I'd tied on in the morning. He asked "How do you keep the hackle from breaking, most buggers I see break apart after a few fish." I replied "Simple. Dub the bodies and use the highest quality saddle hackle you can buy." It doesn't guarantee the fly won't eventually fall apart, but it certainly improves the fly's durability. To Dub or Not to Dub? – My Woolly Buggers Don't Have to Decide.
NOTE FROM J. STOCKARD: We carry over 2 dozen varieties of dubbing in dozens of colors and we recently added AZ Simi-Seal Dubbing.