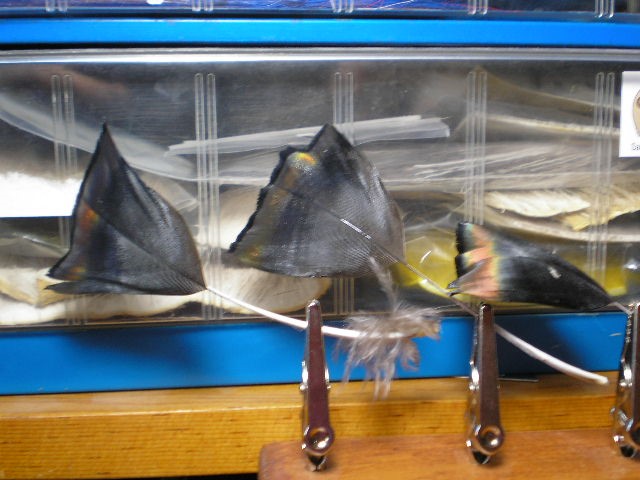 Guest Blogger:  By R. L. "fishingbob" Nelson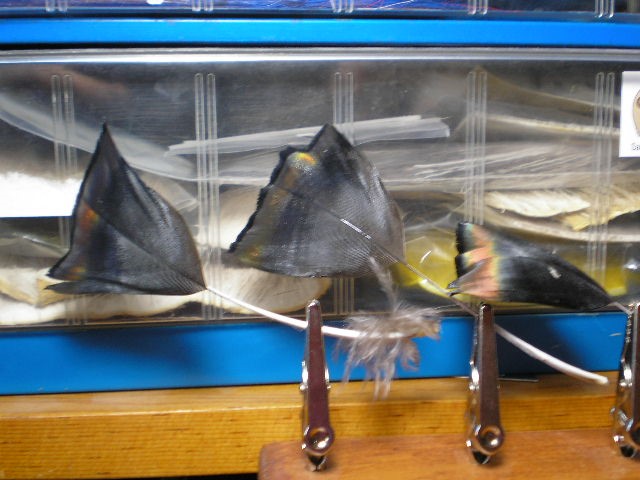 I have several friends who are wild turkey hunters.  When I first saw the iridescent tail feathers on a wild turkey I knew there was a fly pattern there.  I developed the Wild Turkey Caddis several years ago.  I first fished this pattern on the Forks of the Upper Rogue in Southern Oregon.  I have since fished it all over the West and had great success.  The light reflecting properties of the tail feather make the fly easy to see in any water and in any light.
 MATERIALS:
DIRECTIONS:
Start with a short iridescent feather from a wild turkey tail or flank. Strip away the fuzzy part of the feather.  Coat both sides of the feather with "Dave's Flexament" and let dry completely. (Fig. 1) I usually let mine set at least overnight. I do enough feathers to tie several flies.
Place hook in vise and cast on thread.  Dub body with dubbing material starting at a point even with the barb.  Dub a tapered abdomen stopping about ¾ of the length of the hook shaft. (Fig. 2)
I use a "Montana Fly Company Caddis Wing Cutter" to cut the wing from the feather. Make sure to line up the cutter with the barbules of the feather.    (Fig. 3 and 4)
Tie in the wing making sure it is evenly divided on both side of the hook. (Fig. 5 and 6)
The wing should extend past the bend of the hook.  Clip off butt ends of  wing feather and dub a thorax over butt tips. (Fig. 7)
Tie in a good dry fly hackle and make about 5 wraps.  Finish head with a whip finish and head cement. (Fig. 8)