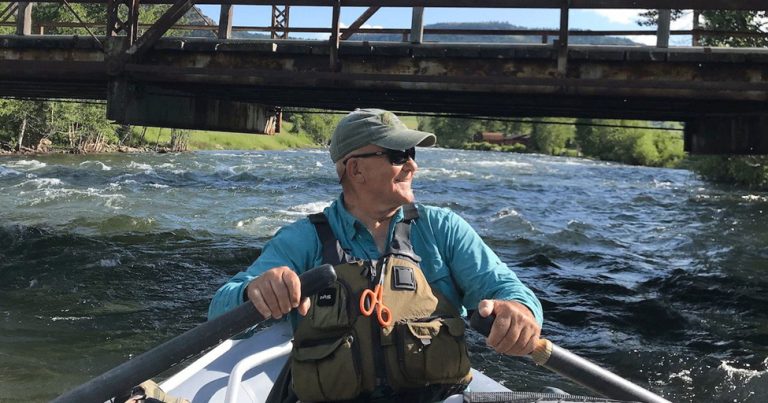 Guest Blogger: Mike Cline, Bozeman, Montana, Lieutenant Colonel, US Air Force Retired
As the Veterans Service Coordinator on the board of the Madison-Gallatin Chapter of Trout Unlimited, the summer of 2020 proved to be an impossible challenge. Despite plans for a summer full of TU sponsored veterans fly fishing events, most veterans clubs and groups either shutdown or severely limited activities due to the COVID situation. Fortunately, our chapter's November meeting fell on Veterans Day and the loosening of meeting restrictions gave us the opportunity to do something veterans related. It fell to me to get something organized and my thoughts immediately went to the few veterans I know here in SW Montana involved in the Fly Fishing industry. One of those veterans is Chris Fleck—guide, outfitter, fly shop owner, active TU member and more importantly a retired U.S. Marine Corps Lieutenant Colonel of 23 years' service. Here's his story.
Born and raised in the San Diego area, he grew up a Boy Scout, experiences he credits a lot for his love of the outdoors. Fortunate to have relatives in SE Wyoming, Chris spent summers on a working ranch and grew to understand and appreciate the wilds of Wyoming and Montana.  After high school he attended and graduated from the University of California Berkley with a degree in Economics. It was the late 1970s and like many graduates, Chris really hadn't figured out what he wanted to do with his life. After working some on the Wyoming ranch, Chris went out on a limb and began exploring military service.  For a variety of reasons he settled on the Marine Corps and in 1978 was commissioned as a Second Lieutenant in the Infantry.  Over the course of his career, he commanded Headquarters, Rifle and Weapons companies of 125-150 marines and served overseas on sea duty in the Western Pacific, on Okinawa and in Somalia.  He also served as a battalion and regimental operations officer as well as the Commanding Officer of the Marine Corps Recruiting Station in Houston ,Texas. He is a graduate of the Naval War College, receiving a Masters Degree in National Security Strategy. After retiring in 2001, Chris decided to settle in Columbus, Montana along the banks of the Yellowstone and Stillwater rivers.
Chris came to fly fishing late in his military career, but after retirement he decided that fly fishing might make a good second career.  He attended a Guide School in Bozeman and got his guide license.  After a number of years guiding for other outfitters, Chris got his outfitters license in 2008.  Although he freely admits it wasn't in his original plans, he seized an opportunity to open a fly shop in Columbus in 2011.  Known today as Stillwater Anglers, his small fly shop is an oasis for local and visiting anglers that ply the Stillwater and lower Yellowstone rivers.  Several years ago, another veteran fly shop owner, Richard Parks of Park's Fly Shop in Gardiner, Montana told me that the water—the rivers and lakes were the most important asset a fly shop owner and outfitter has.  Without quality water and a quality fishery, there would be no fly fishing industry in SW Montana.  To that end, it was no surprise to find that Chris Fleck was an active member, board member and once chapter president of the Magic City Fly Fishers, the TU chapter in Billings, Montana.  During this time he represented his chapter as a member of the TU State Council. He is currently a TU business member. There's a popular Marine Corps commercial – Toward the Sounds of Chaos where Marines are taking the fight to the enemy.  It epitomizes the attitude Chris takes to the fight to protect cold water fisheries in SW Montana.
Even while running the business Chris has been active in his local community serving on the Stillwater County planning board, the Columbus school board, Stillwater County Chamber of Commerce Board of Directors and the Stillwater Valley Watershed Council board of directors.
I had the opportunity to sit down with Chris to prepare for the presentation he will give our chapter on Veterans Day this November.  What I really wanted to know was how he thought his military experiences have helped him be successful as a guide, outfitter, fly shop owner and active TU member.  The answer didn't surprise me.  A successful marine company commander has got to be a good leader, have keen organizational skills, understand risk management, enforce accountability, assess and train subordinates and above all be a good, responsive communicator.  Chris brings all these skills to his job as a guide, outfitter, fly shop owner and TU chapter leader.  The hallmark of great leadership is the success displayed by those who are led.  Chris understands this with every one of his guides, clients and fly shop customers. Chris also credits his Marine Corps training in tactical and operational planning for helping him plan for success in his fly fishing business.
Clients have different expectations, different skills, different personalities and above all different motivations for that fly fishing trip in SW Montana.  Chris admits, although it's probably done somewhat unconsciously, that he uses the same skills he needed as company commander to assess, train, motivate and maximize the fly fishing experience for his clients that he did with his marines.  Getting an individual or group of marines in the right job, well trained and motivated is not much different than getting a fly angler—beginner or experienced—to be successful on the day.  Safety on the water is a big deal on big rivers like the Yellowstone and Chris believes his experience as a marine makes him pay particular attention to trip preparation and activities on the water.  A client who is unprepared for inclement or changing weather conditions or who doesn't behave safely on the water puts the success of any trip in jeopardy.  Sometimes clients just need to take and obey orders—something a marine company commander is probably pretty comfortable with.
As Chris and I were talking, I asked him what was different between his military experience and that of a civilian in a niche industry.  In the Marines, responsive communications was essential to success.  As an outfitter and fly shop owner he's always tried to maintain that level of responsive, timely communications he enjoyed in the Marine Corps.  He admitted that clients, suppliers and customers are sometimes surprised by his responsiveness to their inquiries.  Equally so, there's a level of frustration when clients, suppliers and customers aren't responsive.  Never the less, Chris instills in his employees, guides, clients and customers an ethic of excellence.  The Marine Corps has a mantra – "No Marine Left Behind – This mantra highlights the loyalty, teamwork, and brotherhood existing among Marines. It also emphasizes the Marine ideal of sacrificing one's own safety to ensure the safety of a comrade."  Chris Fleck, as a guide, outfitter, fly shop owner and TU chapter leader has carried this mantra forward for his employees, clients and customers every day.
There are 1000s of veteran owned businesses in the U.S. and even more that employ veterans.  A few of them are successful outfitters and fly shop owners.  I am confident that whatever the business might be or however the veteran served – reserves, National Guard, active duty, or career, that veteran brings valuable skills to the fray.  So, this Veteran's Day celebrate a Veteran in your neck of the woods.